Journalism School Team's Award-Winning Project Inspires Ocean Spray Ad Campaign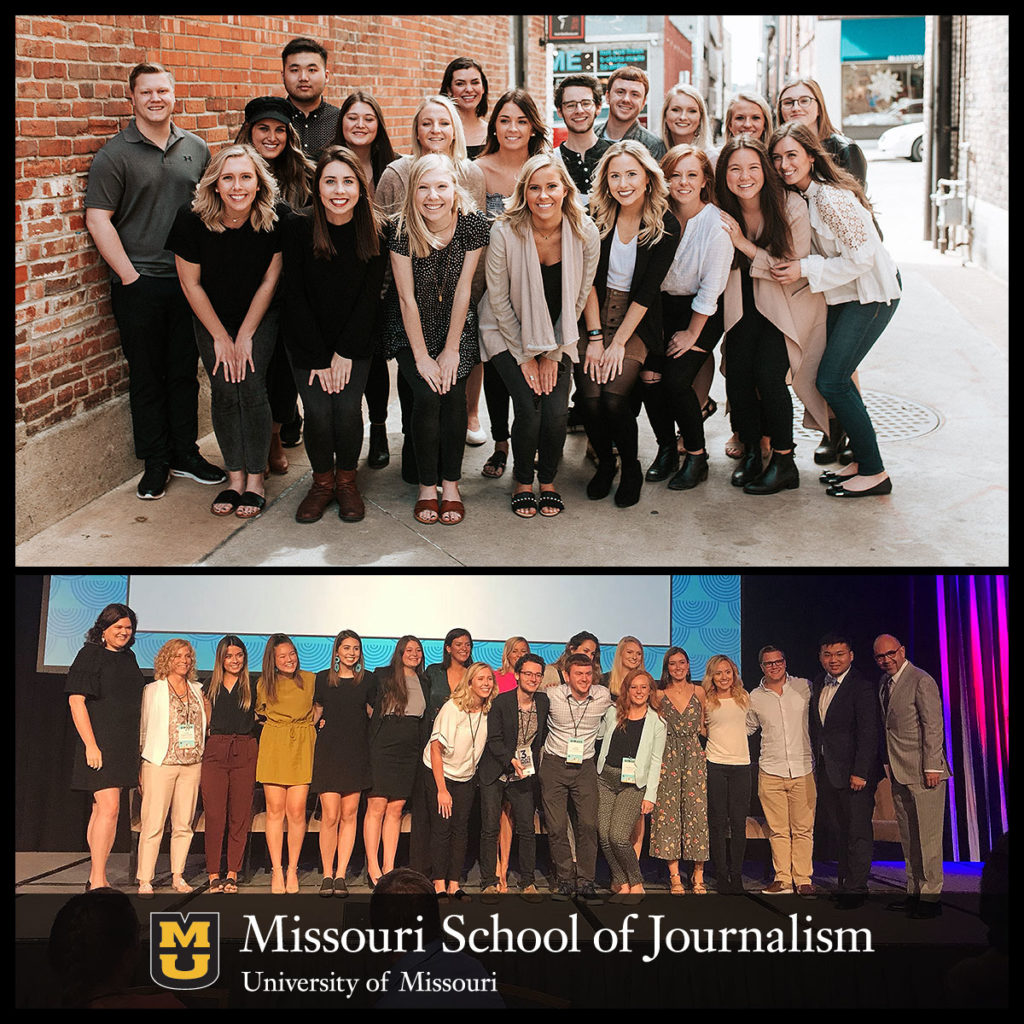 Working with tighter-than-normal deadlines, a 20-member student team at the University of Missouri placed third in a nationwide advertising campaign designed for Ocean Spray, and the "conspiracy theorist" theme of their work inspired a recent campaign produced by the ag cooperative.
By Jennifer Nelson
Columbia, Mo. (Nov. 9, 2018) — An advertising campaign designed for Ocean Spray by a Missouri School of Journalism student team not only went on to place third in the nation but also inspired a recent campaign produced by the ag cooperative.
The 20-member student team at the University of Missouri, as well as college teams from across the country, were tasked with developing an integrated marketing and retail campaign for Ocean Spray that would reach 24- to-34-year-olds as part of the National Student Advertising Competition.
The MU campaign, developed as part of the student-run ad agency AdZou, won first place in the advertising competition's ninth district and third place in the national finals out of eight remaining schools from across the country.
Wanting to help millennials better understand Ocean Spray as an ag cooperative, the team of seniors came up with marketing ideas around the idea of a conspiracy theorist playfully trying to get to the bottom of the organization being a cooperative of farmers rather than a large corporation.
The students' campaign ended up inspiring several ad executives in a new, unrelated campaign Ocean Spray recently launched for pink cranberries.
Although Ocean Spray developed its own approach in the campaign, it incorporated the idea of a conspiracy theorist concept into a current ad that questions whether pink cranberries are real or not. The students also used "bog" or "bogus" in some of their campaign wording. Ocean Spray used a similar concept with "fact" or "fiction."
How the Campaign Came Together
Traditionally, AdZou students, who work for the agency as their final senior capstone projects, work on campaigns for professionals over the course of a semester. However, since this campaign was part of a competition, students had an earlier deadline, which required a jump-start to the campaign before the spring semester, said Holly Higginbotham, co-director of AdZou and associate professor of strategic communication. This was the first time in many years the school participated in the competition as an official capstone project.
Higginbotham found three students who agreed to get an early start on the campaign in fall 2017 by conducting research to learn about the target demographic and about what motivates and resonates with them. The three students did the work on the side, in addition to their full course load and other outside commitments, she said.
"The research was guided by three very hard-working young ladies," Higginbotham said. "One of them quit her job because there was no way she could do it all. She is just the epitome of the devotion that I saw on this team and how they gave their all to this process."
The rest of the team joined in January 2018 to work on the creative process. Typically, capstone teams break up into small groups but with the tighter deadlines, a full team was needed, said Higginbotham.
This posed challenges, along with opportunities to learn valuable skills, said senior Christine Orzechowski, who was the team's art director.
"Setting deadlines and communication was key in being on top of what was due when and making sure everyone was on top of their stuff," said Orzechowski.
When asked what he attributes to the success of the campaign, Creative Director Patrick LaBelle (BJ '18) said the team hit on its idea early in the campaign and soon latched onto the possibilities.
"I think we realized we had something special," he said, "and I think the excitement of everyone to work on it made all the difference."
He also attributes success to having a leader like Higginbotham who was both an "emotional support pillar and stern voice when we needed it."
Some members of the team, including LaBelle and Orzechowski, had participated in the competition as an extracurricular activity as sophomores or juniors.
The Ocean Spray team was made up of Caleb Bishop, Matthew Chirillo, Erin Curry, Jennifer Fabian, Holly Hunt, Lauren Kight, Ceara Kirkpatrick, Patrick LaBelle, Mackenzie Lujin, Zhongyang Lyu, Heidi Mader, Amanda Moy, Lauren Neimeyer, Christine Orzechowski, Christyna Prust, Jessica Sellers, Chandler Short, Olivia Thoelke, Mackenzie Thomas and Mary Wynn.
Ocean Spray is one of many partners AdZou teams have worked with over the years. The agency provides services at a lower rate than professional ad agencies, attracting many local, smaller Columbia and Missouri organizations such as the Blue Note, the True/False Film Fest, Central Bank and the MU Office of Economic Development. Students work in different roles in the research strategy or creative side of the agency based on their skills and interests.
"AdZou is about getting our students into a real-world environment to practice the things they've been learning about in their classrooms," Higginbotham said. "But it's also here to provide a service to the community, to offer marketing and promotional help for businesses who otherwise would have trouble finding the funds."
About AdZou
AdZou is based on the "Missouri Method" of learning by doing. Directed by public relations, advertising and marketing professionals, graduating seniors work in small teams to bring fresh perspectives to their research-based campaigns for real companies or organizations.
Updated: November 5, 2020
Related Stories
Expand All
Collapse All
---