AAF Mizzou Students Connect with Professionals on Trip to Chicago
Alumni, Others Provide a Glimpse into Life Working at an Agency
Columbia, Mo (Nov. 11, 2015) — A group of 24 students studying strategic communication at the Missouri School of Journalism traveled to Chicago in late October to tour a variety of advertising, public relations and digital marketing agencies.
The trip, organized for members of the School's American Advertising Federation student chapter, aimed to help students connect with professionals working in advertising and public relations and provide a glimpse into life working in an agency.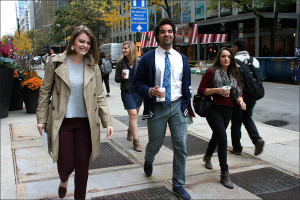 Over the course of two days, the group visited the following agencies: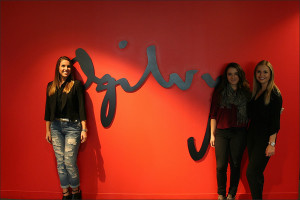 During the visits, students were able to learn about each agency's unique work environment, culture and history through tours, panels and Q&A sessions. Alumni of the School's strategic communication program led many of the sessions. Ashley Ackerman, BJ '10, hosted the students at 360i, where she is a senior account manager. She spoke about some of the innovative campaigns she has worked on while at the agency, including Sizzl, a dating app for bacon lovers that was developed for client Oscar Mayer.
"It was rewarding to see so many former students who are doing great work at some of the top agencies in Chicago," said Holly Higginbotham, assistant professor and AAF Mizzou's faculty adviser who accompanied the group. "I think our current students were excited to see the opportunities that await them after graduation."
Preparing students for their post-graduation job search was one goal for the agency trip. Throughout the visit, agency professionals offered advice on searching for jobs, what individualizes a resume and how to organize a portfolio. A key piece of advice offered at each agency was for students to leverage a network of support and build connections as a way of landing a job in the industry that's often nicknamed "the relationship business."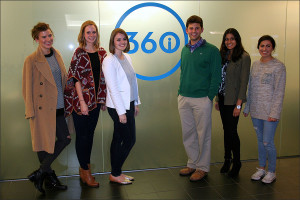 Helping students at their alma mater was a motivating factor for many of the school's alumni who facilitated the students' visit to their respective agencies.
"Being the first one from Mizzou here (360i), I felt a deep need to reach out to people who got the same education as I did, because of how well it prepares us," Ackerman said. "The Mizzou Mafia is one of the best kept secrets!"
For Alyssa Sturgis, a senior studying strategic communication, visiting Chicago was a fulfilling and educational experience that helped her gain an understanding of how she can apply her skills when she graduates in the spring.
"The trip to Chicago was a great way to explore what working in an agency would actually look like and provided a great opportunity to network with Mizzou alumni and future employers," Sturgis said.
Strategic communication students Lauren Giwa-Amu, Jennifer Janssen and Marta Witko contributed to this story.
Updated: September 14, 2020
Related Stories
Expand All
Collapse All
---