3 Missouri Students Selected for AAF's 2019 'Most Promising Multicultural Students Program'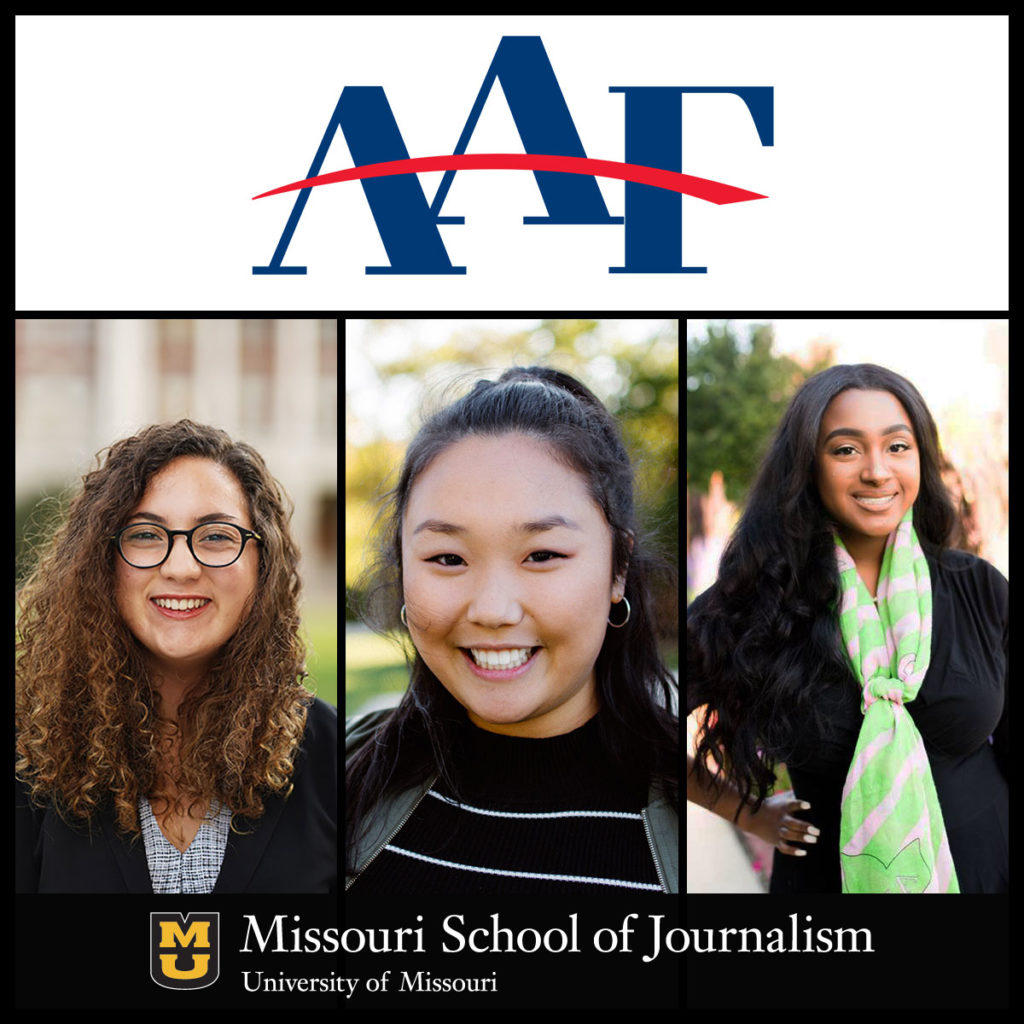 Mizzou strategic communication seniors Nour Feghali, Rachel Kim and Alicia White are among 50 students nationwide selected for the American Advertising Federation's Most Promising Multicultural Students Program. They will spend four days in February interviewing and networking with advertising industry professionals in New York City.
Strategic Communication Undergrads Will Spend Four Days in February Interviewing and Networking in New York City
Columbia, Mo. (Dec. 21, 2018) — Three Missouri School of Journalism undergraduates have been selected for the 2019 Most Promising Multicultural Students Program sponsored by the American Advertising Federation. AAF's program promotes diversity in the workplace and helps connect the advertising industry to higher education, allowing companies to recruit employees from the nation's top multicultural college seniors.
Nour Feghali, Rachel Kim and Alicia White – all three studying strategic communication – were among the 50 students from around the nation selected by a panel of industry judges.
"We're really proud that we have three students who are representing not only themselves, but the Missouri program so well," said Holly Higginbotham, associate professional practice professor and adviser to Mizzou's AAF chapter. "The Missouri Method can be demanding on students. These three take advantage of every opportunity. Not to take away from what they do in their personal lives, but our program does attract the best and brightest. The excellence of these three stands out."
Nour Feghali grew up in Lebanon and moved to the U.S. in 2016 to attend college. At Mizzou, she tutors both French and Arabic at the Learning Center and also sits on the executive board of the Missouri International Student Council. Feghali also served as a Mizzou International Experience Ambassador this past summer, assisting kids from Brazil, Vietnam, Serbia and China as they had an opportunity to see what higher education is like in the U.S. and the different kinds of programs offered. This spring, she will be a part of MOJO Ad, working as a researcher on a campaign for Chevrolet. After graduation, she hopes to work for a large, multinational nonprofit or work for a humanitarian client at an agency.
Rachel Kim is from Rochester Hills, Mich., a member of Chi Omega Sorority and also serves as on the Mizzou Tour Team. In addition, she is working as the creative director for a campaign for Wienerschnitzel on Mizzou's National Student Advertising Competition (NSAC) Team, hosted by AAF. Though excited to participate in the AAF program and spend time in NYC again, Kim says that her outlook on her career and how she is planning her life after graduation has changed drastically during her time at Mizzou and that she's found beauty in not planning too far in advance.
Alicia White is from Dallas, a member of Delta Tau Chapter of Alpha Kappa Alpha Sorority, Inc., a teaching assistant for Mizzou Black Women's Initiative and also serves as a J-School Ambassador. She is also working as a brand strategist for Mizzou's NSAC team. A sorority friend told her about the AAF program and she knows it serves as a tremendous stepping-stone to a career. Her post-graduation plans include travelling to Kenya with her best friend and spending a month abroad. One of White's favorite memories was when we were leaving after a concert at Mizzou and jumping and singing in a bounce house, from which she could see the columns and Tiger Plaza.
The American Advertising Federation (AAF), the nation's oldest national advertising trade association and the only association representing all facets of the advertising industry. Headquartered in Washington, D.C., AAF acts as the "Unifying Voice for Advertising." The AAF's membership is comprised of nearly 100 blue chip corporate members comprising the nation's leading advertisers, advertising agencies, and media companies; a national network of nearly 200 local clubs representing 40,000 advertising professionals; and more than 200 AAF college chapters with over 5,000 student members. The AAF operates a host of programs and initiatives including the Advertising Hall of Fame, the American Advertising Awards, the National Student Advertising Competition, the Mosaic Center on Multiculturalism, and summer Ad Camps for high school students.
Updated: November 6, 2020
Related Stories
Expand All
Collapse All
---