13 Students Inducted Into Alpha Delta Sigma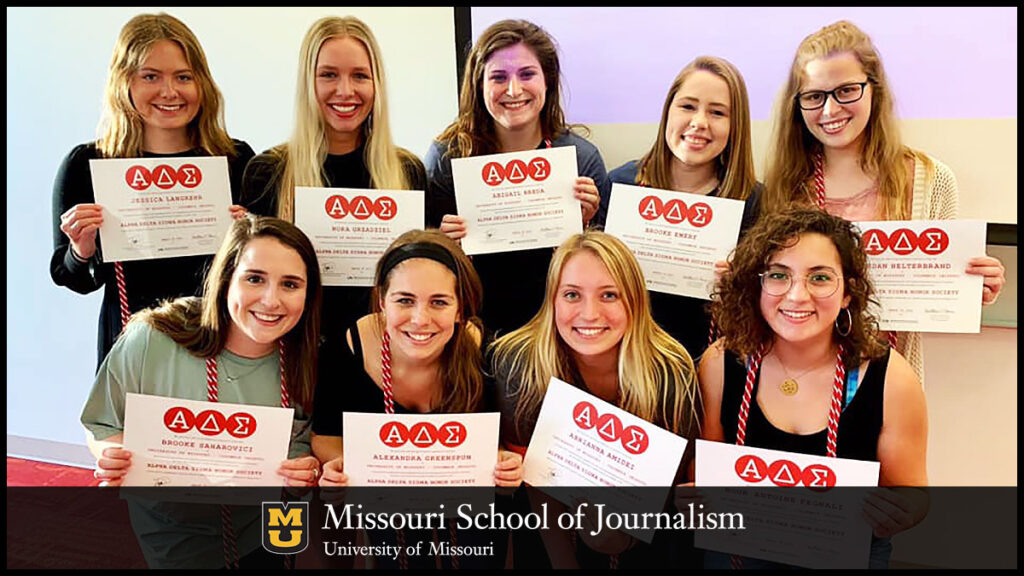 Columbia, Mo. (May 8, 2019) — A passion to learn more about the advertising industry while paving the way for their own future careers is what earned 13 Missouri School of Journalism students a spot in the 2019 Alpha Delta Sigma class, an honor society associated with the American Advertising Federation.
Every year, students have the opportunity to apply for admission to Alpha Delta Sigma. Admission to the honor society requires that students be members of their university's AAF chapter and maintain strong academic standing.
Missouri School of Journalism students are known to excel in both industry involvement and academics, so it came as no surprise that 13 students met these standards and were inducted into the honor society.
Jessica Langrehr, Missouri School of Journalism senior, is one of the students admitted into the 2019 Alpha Delta Sigma class. Langrehr, who is involved in Mizzou Women in Media, Sigma Kappa sorority and MizzouThon, wanted to be part of Mizzou's AAF chapter because of the networking and industry insight that it provides.
"The Missouri School of Journalism has helped me advance my career goals in every way possible," said Langrehr. "I have been able to network with professionals in the industry as well as form strong bonds with my fellow classmates that I will carry along with me in my future professional career."
Sydney Vander Veen, another Alpha Delta Sigma inductee and Missouri School of Journalism senior, is glad to be able to share her experiences and connect with fellow industry peers as a result of this accomplishment.
Along with being part of Mizzou's AAF chapter, Vander Veen is involved with the Sigma Kappa sorority where has led various leadership roles, including activities chair and scholarship mentor. She joined AAF to find her place in the School.
"The J-School has so many talented, hard-working individuals that bring so much to the table both inside the classroom and out," she explained. "As a freshman, I was excited to learn more about how I can become more involved in the School of Journalism and be successful like the role models I had met through AAF."
Both students recognize the role that the School of Journalism plays in this accomplishment and their overall career goals. For Vander Veen, the leadership experiences, real client work and peer connections have been instrumental in steering her in the direction of her future career.
"The School of Journalism has taught me that you make your own opportunities and if you are passionate about something you have to go all in," explained Vander Veen. "I learned that you have to take a chance on yourself, while always keeping in mind that the 'we' is always more important than the 'I'."
Being inducted into the Alpha Delta Sigma honor society provides a professional stepping stone for Langrehr, Vander Veen, and the other 11 inducted students into the industry they're about to join after graduation. The full list of students inducted into Alpha Delta Sigma includes Abrianna Amidei, Abigail Breda, Brooke Emery, Nour Feghali, Alexandra Greenspun, Nora Grzadziel, Jordan Helterbrand, Jessica Langrehr, Maleah Moorman, Elizabeth Reiher, Brooke Saharovici, Sydney Vander Veen and Lexie Winter.
Updated: November 10, 2020
Related Stories
Expand All
Collapse All
---