Two Missouri School of Journalism students selected for AAF's 2020 'Most Promising Multicultural Students Program'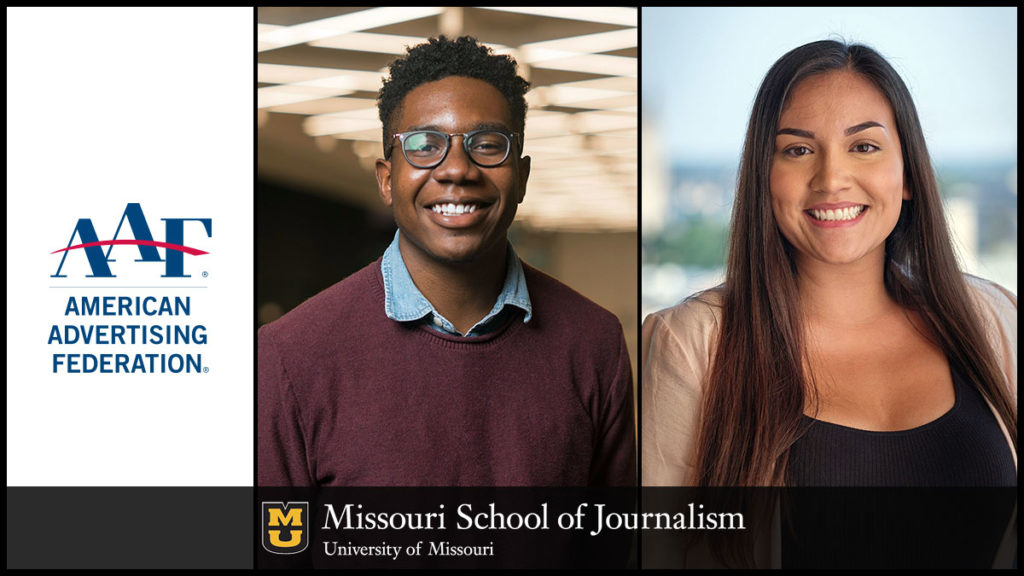 Recipients considered "50 of the most high-potential advertising talent in the country"
By Jennifer Nelson
Columbia, Mo. (Dec. 4, 2019) — Two Missouri School of Journalism students have been selected for the 2020 Most Promising Multicultural Students Program sponsored by the American Advertising Federation. The program is part of an AAF initiative promoting diversity and inclusion in the ad industry.
Seniors Tyler Jones and Adrianna Talavera – both studying strategic communication – were among 50 students from around the nation selected by a panel of industry judges from organizations including Adobe, Target and Pandora. The 2020 class consists of students from 29 schools from 19 states across the country. Students were required to submit essays, letters of recommendations and meet specific academic requirements and are considered among "50 of the most high-potential advertising talent in the country," according to a news release.
As part of the program, the students will participate in a four-day industry immersion program in February 2020 that includes professional development workshops, site visits to various agencies and companies, job interviews, the Building Bridges to our Future awards luncheon and a Recruiter's Expo.
"Being selected for this year's class of Most Promising Multicultural Students is an incredible opportunity for Adrianna and Tyler to connect with industry professionals in New York," said Holly Higginbotham, associate professor of strategic communication and AAF adviser. "We're proud to have them represent both our Mizzou AAF student chapter and our strategic communication program with such excellence."
Tyler Jones of Chicago is a member of Phi Sigma Pi national honors fraternity. He is also on the executive board of the Black Collegiate Network, as well as a strategist for an advertising agency run by students known as Relevant Youth. In addition, he is a mentor and member of Mizzou Black Men's Initiative (MBMI), and has served as a summer welcome leader in the past. This summer he participated in the Multicultural Advertising Internship Program (MAIP), hosted by the 4A's. Next spring he will work for AdZou, MU's student-staffed advertising agency.
"I am looking forward to meeting all of the amazing future advertising minds and learning more about them, their work and how they plan to change the industry," said Jones of the immersion program. "I am also looking forward to learning more about all the companies that will be in attendance and talking with professionals about different opportunities."
After graduating, Jones hopes to get a job in the advertising and communications field working as an account executive role creating and managing campaigns, he said.
Adrianna Talavera of Shawnee, Kansas, is a content manager for MOJO Ad, the School's student-staffed professional-services advertising agency, where she and her team are working on a campaign for the Association of Fish and Wildlife Agencies. She is also the head teaching assistant for the School's Strategic Writing and Design course this semester, as well as the president and co-founder of the National Association of Hispanic Journalists' University of Missouri chapter. In addition, she's a member of AAF's Mizzou chapter, a communications assistant for the MU Cambio Center and a co-host for the Cambio Center's podcast "Cambio Cast."
"I'm looking forward to networking and hopefully walking away with an offer," said Talavera of the immersion program. "I just went to a similar event for multicultural students in Atlanta in October and I left feeling so motivated and in love with this industry. If nothing else, I just want to leave feeling assured in my dedication to my career path."
After graduation, she hopes to work at an ad agency in account strategy.
About the American Advertising Federation
Established in 1905, the American Advertising Federation (AAF) acts as the "Unifying Voice for Advertising." Its membership is comprised of more than 75 corporate members made up of the nation's leading advertisers, agencies, and media companies; a national network of nearly 164 local clubs representing 30,000 advertising professionals; and more than 170+ college chapters with 4,000 student members. The AAF operates a host of programs and initiatives, including Advertising Day on the Hill, the Advertising Hall of Fame, the Advertising Hall of Achievement, the American Advertising Awards, the National Student Advertising Competition, the Mosaic Awards, the Most Promising Multicultural Students Program and AdCamp for high school students.
Updated: December 4, 2019
Related Stories