Two Missouri School of Journalism Students Attend AAF's 2020 'Most Promising Multicultural Students Program'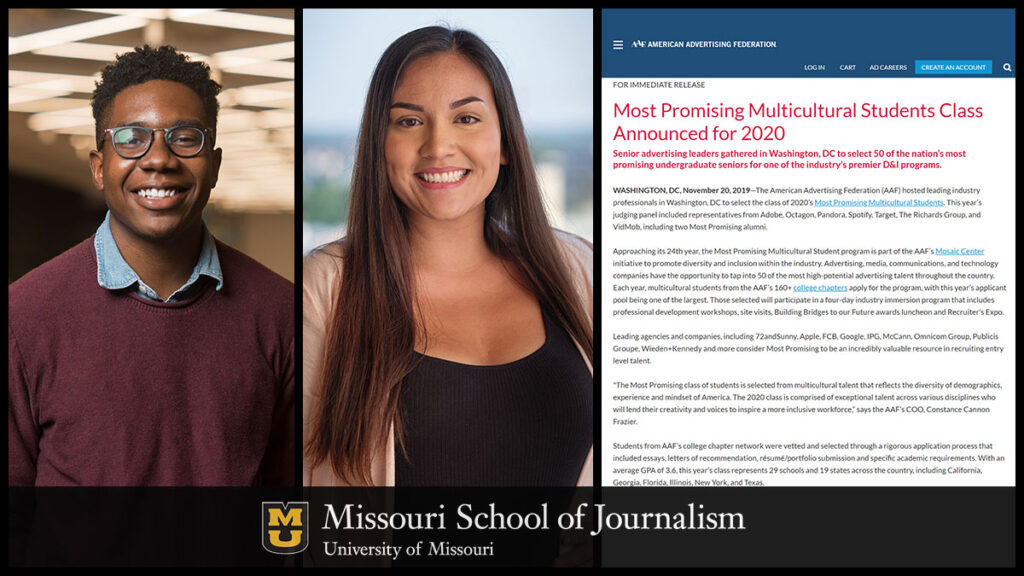 Mizzou seniors Tyler Jones and Adrianna Talavera were chosen to participate in the American Advertising Federation 2020 Most Promising Multicultural Students program held Feb. 10-13 in New York.
Strategic communication seniors Tyler Jones and Adrianna Talavera reexamine career goals, broaden interests
Columbia, Mo. (March 30, 2020) — Two Missouri School of Journalism students attended the 2020 Most Promising Multicultural Students program (MPMS), a four-day event put on by the American Advertising Federation (AAF). Strategic communication seniors Adrianna Talavera and Tyler Jones were selected for the event because of their demonstrated passion in advertising and related fields.
The event took place Feb. 10-13 in New York and aimed to give multicultural students that are traditionally underrepresented a hands-on look at the day-to-day advertising world. The 50-member 2020 Class of MPMS hailed from 29 schools in 19 states across the country. All participants are majoring in an advertising-related field such as marketing, communications, or, as is the case with Talavera and Jones, strategic communication.
The two Mizzou seniors enjoyed a packed schedule during those four days, which included events ranging from group meals to professional development workshops and industry immersion exercises with advertising agencies and corporations such as FCB and WarnerMedia.
For one exercise, attendees had to come up with a personal tagline and hashtag, and then recite it at a luncheon in front of a room full of advertising professionals. Talavera's tagline was "Good things come to those who hustle" with the hashtag #GoGetIt. Talavera appreciated the broader purpose behind the exercise.
"As students and soon-to-be job seekers, this exercise made us reflect on how we want to sell ourselves to prospective employers," she said. "The advertising industry is focused on sales, but to get our foot in the door in the industry, we have to first sell ourselves to company recruiters."
Later, prospective employers at agencies and corporations sat down for one-on-one conversations with attendees. Talavera was surprised by how authentic this portion of the event was. "The organizations in attendance really made us feel at home," she said. "They conveyed that they valued our input in the advertising industry and thought our perspective was really needed and not just something to fill a quota or check a box."
Jones was encouraged to apply for the program because some of his peers had been part of the program in recent years. "It seemed like a lot of people who are going places in the advertising industry all were a part of this program, and I thought that would be pretty good company to be a part of," he said.
One event that particularly stood out to Jones was a gala event at a library penthouse in Manhattan that showcased 10 ads which industry professionals deemed to best showcase diversity and inclusion.
"All of the ads were really moving, and I think seeing those ads on a screen helped us all imagine what we could come up with ourselves based on our own diverse backgrounds," he said. "The recruiters at the event always told us that our perspective was valued in the industry, but seeing it fully fleshed out on screen took that from words into a reality and I think that inspired all of us."
While both students got a lot out of the event, it helped Talavera – who is interested in all aspects of the advertising industry – reexamine the big picture of her career goals.
"I had put a lot of pressure on myself in the past, saying I had to work in a really big city right after college and get started at a major agency right away," she said. "After talking with advertising professionals at the event, I feel reassured about where I am now. They assured us that their journeys were not linear and that it's okay to not know exactly what we want to do or where we want to be right now; we can develop our skills as we go."
Jones, who wants to work in account management, but also dabble in the more strategy-related aspects of the industry, had a broader takeaway about the whole group.
"These events are important for all of us because they remind us that we aren't alone," he said. "It can be hard for minorities to break into an industry in which they are underrepresented, but the program really instilled in us a 'can-do' attitude and gave us the tools and motivation necessary to take courageous steps forward with our own individual journeys into the advertising industry."
Updated: November 11, 2020
Related Stories
Expand All
Collapse All
---