Three J-School Strategic Communication students participate in Publicis Multicultural Talent Pipeline conference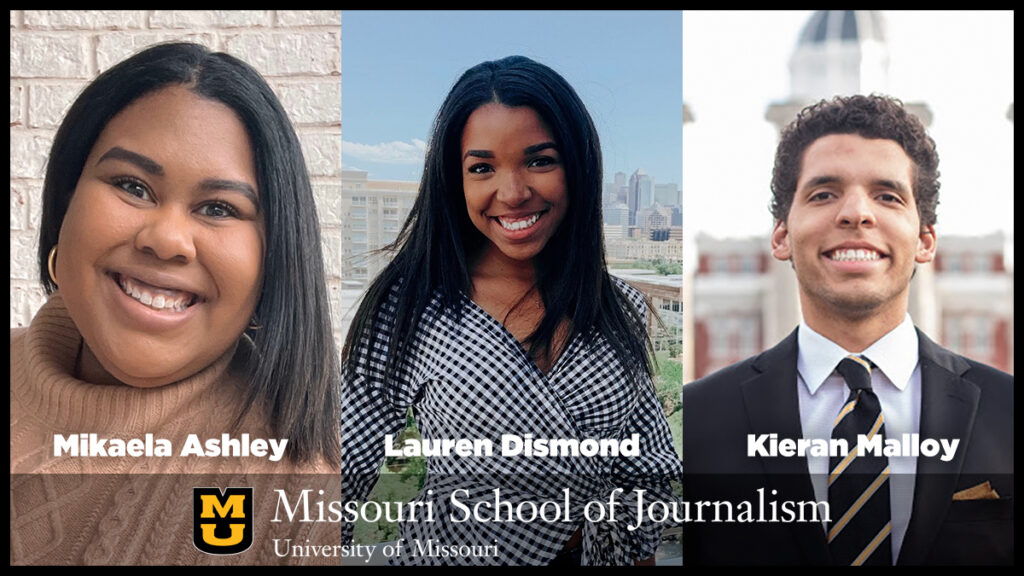 By Zach Taylor
Columbia, Mo. (Feb. 9, 2021) – J-School Strategic Communication students Mikaela Ashley, Kieran Malloy and Lauren Dismond were selected to attend the Publicis Multicultural Talent Pipeline (MCTP), an event focused on helping skilled people from multicultural backgrounds get their foot in the media industry's door.
"The Publicis MCTP event is three days packed with valuable career and life-building discussions," said Jamie Flink, associate professor of Strategic Communication. "The purpose is to engage and identify diverse college students to join the media, advertising and marketing industries, but it's really much more than that. Publicis is the world's third largest global communications group, so the level of access and exposure they are able to give these students is unrivaled. Kieran, Lauren and Mikaela are exemplary representatives of our program. I'm thrilled that they had this opportunity."
While past events have been hosted in Atlanta and New York City, this year's event was held in a virtual setting due to the coronavirus pandemic. Over the course of three days, from Oct. 24-26, 2020, the students were introduced to media industry professionals working for Publicis' companies including Digitas, Leo Burnett and Saatchi & Saatchi, among others.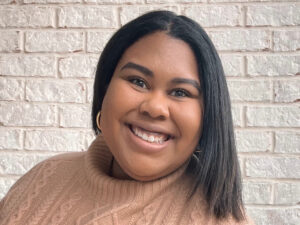 Notably, Ashley, a senior, formed a connection with a Leo Burnett representative that has already led to a summer internship offer. She has accepted the position and will begin work shortly after she graduates in May.
Ashley, who grew up in Chicago, has dreamed of living and working in her hometown from a young age. "If you would have told me that I would be working for Leo Burnett when I was a freshman, I would have told you that you were crazy," she said. "This feels like a dream come true, it's still hard for me to believe."
This internship is the culmination of all the hard work Ashley has put in during her time at Mizzou. Currently, she serves as a strategist for the School's professional advertising agency MOJO Ad, the director of Strategic Research for Relevant Youth and the event coordinator for Missouri Business Alert. Despite her workload, she still finds time to give back to her community as a College Mentor for Kids' "buddy."
Ashley is passionate about diversity, equity and inclusion and spearheaded a DEI effort for her sorority, Delta Gamma. Going to the conference reinforced her feelings about the importance of DEI initiatives and helped further develop her understanding of what it takes to nurture an inclusive workplace.
"You shouldn't have to feel like you're creating the culture," she said. "It should already exist and you should just be joining it, and that requires the organization to be bought in from top to bottom. Everyone in the industry says the same things about the importance of diversity, but some firms are just saying it without putting their resources into it or really believing it. That's something I'm going to be looking out for in the future."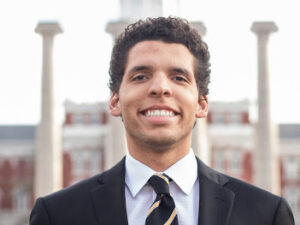 Malloy, a junior from Columbia, Missouri, has different career goals than Ashley, but found the event to be equally beneficial. He is a self-starter who has served in many capacities during his time at Mizzou. He is treasurer for the MU student chapter of the National Association of Black Journalists, a marketing and communications intern for the Camping & Education Foundation, and Head of Standards for his fraternity, Sigma Tau. 
Malloy is passionate about the preservation of nature. He volunteered with Mizzou Alternative Breaks as an environmental specialist working to help maintain and preserve coastal areas in southern Louisiana. He also feels that it is important to lend his support to those in need. That's why Malloy volunteered as a fundraising coordinator for the City of Refuge, where he organized a fundraiser to help refugees acclimate to their new communities. 
Malloy values face-to-face communication and was disappointed about the virtual setting, but he still learned a lot and enjoyed the experience. "I was bummed I couldn't go to a really cool city to shake people's hands," he said. "But Publicis did a great job adjusting to the pandemic. Things went smoothly and I was able to connect with some awesome people, despite the physical distance between us."
After graduation, he is hoping to be an account executive, and he thinks the experience he now has will help him with his job search.
Making lasting connections
Not only did the students get to meet industry professionals, they also got to form lasting connections with their peers.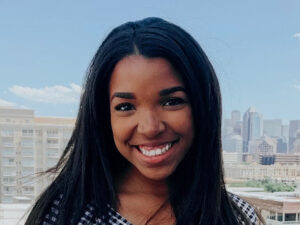 Dismond, a senior from Kansas City, Missouri, enjoyed meeting new people at the event with interests similar to hers. "Everyone that I met was so nice," said Dismond. "It was inspiring to be around so many successful young people. There is a group chat with all of the attendees in it that we use to keep up with each other. People are always putting jobs in there and little tips or tricks for navigating the industry, and I feel lucky that I got to join a community with so many talented people in it."
Dismond, like the others who attended, is a leader in the community. She was a marketing and community outreach intern for the Kauffman Center for the Performing Arts, a public relations intern for Moroch Integrated Marketing Agency and vice president of public relations for the Executive Women's International Collegiate. She feels that DEI is important to the success of any organization, and serves as the director of Equity and Inclusion for her sorority, Chi Omega.
She is also dedicated to service. Dismond organized a fundraising event for the Make-A-Wish Foundation and volunteered at the Ronald McDonald House. "Giving back to the community is important to me," she said. "A commitment to service is something I'm looking for in a future employer."
After graduation, Dismond hopes to get her master's degree in the United Kingdom. If that doesn't work out, she's interested in strategy positions in Austin, Texas, Chicago, Dallas or Kansas City, Missouri.
"I feel so thankful that I got to experience this event with my friends," she said. "It feels good to have a leg up."
Updated: February 10, 2021
Related Stories
Expand All
Collapse All
---