Two Strategic Communication Students Participate in Multicultural Talent Pipeline Forum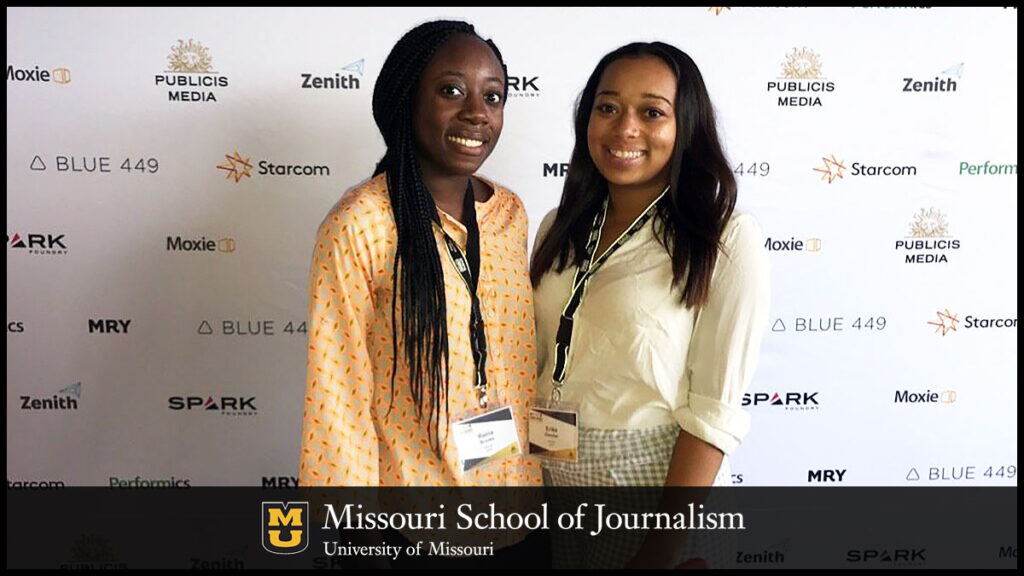 Columbia, Mo. (Oct. 21, 2017) — Two MU strategic communication students were selected for the annual Multicultural Talent Pipeline (MCTP) event in New York City earlier this month. Erika Fletcher and Raina Brooks, two senior account management students, were the first from MU to attend the event.
"I knew Erika and Raina would be excellent ambassadors for our program. They are sharp, highly-motivated young women with bright futures. I also knew they would personally benefit from the exposure," said Associate Professor Jamie Flink, who nominated Fletcher and Brooks. "The MCTP is a special combination of career fair and coaching. I hoped they would learn about themselves and get really excited about careers and specific job opportunities they may not have even considered."
The MCTP Forum, hosted by global advertising agency Publicis Media on Oct. 5, aims to connect talented minority students to some of the best marketing, advertising and media companies in the nation. Their ultimate goal is to close the multicultural talent gap that is present because of a lack of diversity in the industry.
"As a black woman, I believe that it is important to have representation across all identities in the workplace," said Fletcher. "I believe representation of all identities in the advertising and communications industry allows for diversity of thought and will allow companies to produce better work that reaches everyone, hits a more diverse target, as well as consciously does not offend groups. Diversity in this industry creates work that can hit a more defined target audience, in more creative and fun ways."
Brooks and Fletcher received a real-world perspective from industry leaders on key areas of the business including media strategy, planning, buying, digital, analytics and branded entertainment. The event featured networking opportunities, a career fair, a presentation on body language, and panels on creative and content, science and analytics, and account management and strategy.
Companies who participated in the event and led discussions included were Aire Radio Networks, Entravision, Facebook, NBCU Hispanic, Oath, Publicis Media, Sabio, SBS, Univision, and Urban One.
"Attending the MCTP was very rewarding, and I was excited about the possibilities and connections the event would bring," said Brooks. "What inspired me the most was that there were people on the panels speaking to us about all the amazing things they've done who looked like me. I learned that I don't have to have everything figured out, but as long as I have a passion for this field of work, I can be successful."
Updated: October 26, 2020
Related Stories
Expand All
Collapse All
---