'Politics of the Black Body' Series Explores Questions About Media and Visual Representation
By Zach Reger and Lauren Steele
Columbia, Mo. (Dec. 4, 2013) — Provocative questions addressed ways to explore issues surrounding media and visual representations of race, gender and identity during the "Politics of the Black Body" series at the University of Missouri and Stephens College.
A key aim of the events on Nov. 18-19 was to ask fundamental questions about how those of different races view and understand one another, according to Berkley Hudson, associate professor of journalism and organizer of the series.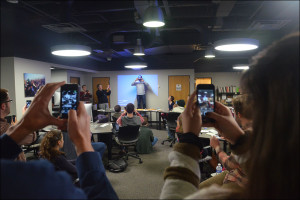 Included in the series' six events was a spontaneous Instagram session, a panel discussion on hip hop and black masculinity, visual presentations and a lively question-and-answer sessions following two screenings of a Sundance Film Festival documentary, "Question Bridge." The film critically explores media conversations among black men across the geographic, economic, generational, educational and social strata of society. More than 1,600 question and answer videos from more than 160 men were collected to produce the material that became "Question Bridge."
The mother-son team of Deborah Willis, who served as the film's executive producer, and Hank Willis Thomas, a visual artist and photographer, served as lead presenters. Willis is a professor and chair of the photography department and imaging at Tisch School of the Arts at New York University. She was a 2005 Guggenheim Fellow and Fletcher Fellow and a 2000 MacArthur Fellow. Willis received the Missouri Honor Medal for Distinguished Service in Journalism in 2001.
Willis and Willis Thomas challenged familiar stereotypes – such as that of Aunt Jemima – in their sessions. In one standing-room only presentation at the Mark Twain Ballroom, Willis analyzed more than 100 images that included Thomas' photographs depicting black male forms with Nike swoosh signs branded onto their physiques.
Willis described her approach to the weighty subjects of race and societal pressures surrounding ethnicity as "photography as a biography" during a presentation titled "Unruly Politics: The Black Body and the Lens."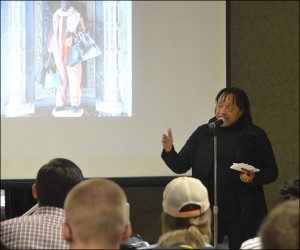 Willis showed images of black men and women throughout history, both in the United States and abroad. Willis' and Thomas' own photography encourage positive representations of the black body.
"It was important for me to tell a different story instead of the common negative stereotypes," she said.
Other speakers enriched the series, including Deputy Chancellor Michael Middleton who spoke movingly of his own experiences of growing up as an African American in Mississippi during the 1950s. Things surely have changed since then, he said, but the documentary reminds us that much still needs to change, including visual and media representation of black males.
For a screening of "Question Bridge" at Stephens, community activist and KOPN radio host Tyree Byndom and Bishop Lester Woods Jr. of the Urban Empowerment Ministry served as moderators. In a session that focused on hip hop, MU ethnomusicologist and black studies professor Stephanie Shonekan moderated the discussion.
The "Politics of the Black Body" series was organized by an interdisciplinary team that included representatives from MU, Stephens and the Columbia Public Library. It was attended by hundreds of students, Boys and Girls Club members, academics, artists and Columbia locals.
David Rees, chair of the photojournalism faculty, described the events as thought-provoking.
"Good questions from students helped to illustrate the idea of how we all possess different perspectives and approaches, and what the implications of this are for the news media in general," he said.
Noor Azizan-Gardner, assistant deputy chancellor and MU's chief diversity officer, spoke of the series' lasting impression.
"It gives us a chance to understand each other better as we build a better community now and in the near and foreseeable future," she said.
Key support for the series came from the Chancellor's Diversity Initiative, the Chancellor's Distinguished Visitor's Fund, the Missouri School of Journalism, MU Libraries and Mizzou Advantage.
Updated: July 21, 2020
Related Stories
Expand All
Collapse All
---