Feminist Scholar on Media Representations to Present on Thursday, March 9
Meenakshi Gigi Durham Will Talk on 'Desire and Danger: Sex, Gender, Violence and Ethics in the Media'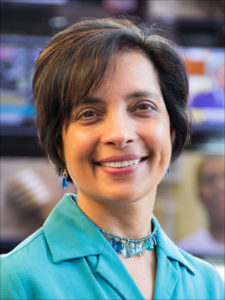 Columbia, Mo. (Feb. 22, 2017) — Meenakshi Gigi Durham, an internationally recognized feminist scholar and author, will lecture at the Missouri School of Journalism as part of the School's Distinguished Visiting Scholar Program. She will give her presentation, "Desire and Danger: Sex, Gender, Violence and Ethics in the Media," from noon to 1:30 p.m., Thursday, March 9, in the Palmer Room of the Reynolds Journalism Institute. Durham's visit is supported by the University of Missouri Campus Lectures Committee.
Durham's work focuses on media representations of gendered and sexed bodies, paying close attention to the intersections of race, age, nation, physical ability and other embodied markers of identity in media images and texts. Her best-known book, "The Lolita Effect," garnered worldwide attention for its focus on media representations of girls' sexualities. In this brown bag session, she will discuss her research on the way power, pleasure and principles play out in our media-saturated environment. Durham is a professor at the University of Iowa.
Assistant Professor Cristina Mislan will introduce Durham before the presentation begins. Associate Dean for Graduate Studies Earnest Perry will thank Durham with a plaque.
Durham's presentation is free and open to the public.
Updated: October 13, 2020
Related Stories
Expand All
Collapse All
---