Wal-Mart Corporate Affairs Director to Deliver Raymond M. Solomon Memorial Lecture
Columbia, Mo. (Feb. 14, 2007) — Beth Keck, BJ '76, senior director of international corporate affairs for Wal-Mart, will deliver the 2007 Raymond M. Solomon Memorial Lecture at 5 p.m., Tuesday, April 3, in Fisher Auditorium at the Missouri School of Journalism.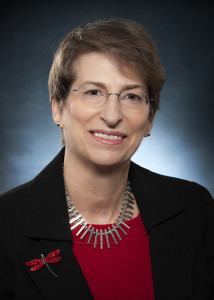 Keck, who joined Wal-Mart in 2004, has titled her address "Telling Wal-Mart's Story."
"We are delighted to have the benefit of Beth Keck's exceptional insights regarding globalization in the new media and marketing world," said Margaret Duffy, associate professor and chair of strategic communication at the School. "Wal-Mart is a worldwide marketing and advertising leader, and Keck's lecture will be particularly exciting and appropriate for the Missouri School of Journalism, whose commitment to international education began at its inception almost 100 years ago."
Raymond M. Solomon, BJ '49, studied advertising at the School. He was killed in 1959 in an airplane accident while traveling to a sales meeting in Anderson, Ind. Shortly after his death, one Chicago Daily News columnist remembered him as a young, socially responsible professional "on his way toward making his mark in business."
In February 1963, Solomon's parents and widow, Gloria Solomon, BA '49, established the lecture series in his memory. Each year, one leader in advertising or public relations is selected to deliver the lecture. The School's Ad Club is co-sponsoring the event this year.
At Wal-Mart, Keck supervises government, public and media relations concerning the retailer's Asia-Pacific region and manages the international corporate affairs team stationed at the company's home office in Bentonville, Ark. Wal-Mart's more than 400 stores in Asia generated about $70 billion of the company's $312 billion in sales in 2005.
Keck began her career in Washington, D.C., as a Presidential Management Fellow at the International Trade Administration of the U.S. Department of Commerce. She later served as a senior insurance officer for the Overseas Private Investment Corporation, underwriting U.S. companies' investments in China and Central and Eastern Europe.
From 1996 to 2001, Keck was the U.S. Federal Aviation Administration's senior representative in Beijing, China. She directed several initiatives designed to improve China's aviation safety system, open its air traffic system to international flights and improve aviation safety in South Korea following a series of accidents.
In 2001, Keck became Asia-Pacific vice president for business development at The Boeing Company in Hong Kong. She was responsible for leading the company's air traffic management business throughout the region.
Keck earned a master's in international economics and Chinese/Asian studies from The Johns Hopkins University School of International Studies. She also completed postgraduate studies at the Chinese University of Hong Kong.
Updated: April 28, 2020
Related Stories
Expand All
Collapse All
---