Global Public Relations Executive, Alumnus Bob Leaf Gives Solomon Lecture
Leaf Share Insights About Strategy, Research with Missouri Journalism Students and Faculty
By Patrick LeBeau
Columbia, Mo. (Oct. 21, 2015) — Retired Burson-Marsteller executive Bob Leaf, BJ '52, MA '54, delivered the 2015 Raymond M. Solomon Memorial Lecture at the Missouri School of Journalism on Sept. 2.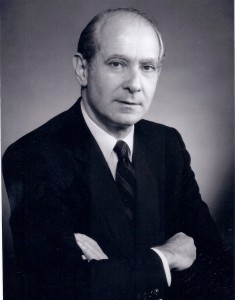 Leaf spoke about his extensive experience in the field of public relations and international communication strategies he learned during his career. Leaf also met with School of Journalism faculty and a select group of strategic communication students during his five-day visit.
"Leaf is a master storyteller, and the stories he conveys from his days as a student at the School of Journalism are colorful, amusing, passionate and resonant," said Jim Flink, assistant professor of strategic communication. "Coupled with the rich and insightful stories of his career, he is an immediate hit with student and adult audiences."
Leaf spent four decades of his career working for Burson-Marsteller, establishing the company as an influential leader in international public relations. He expanded the Burson-Marsteller brand across the globe work by meeting with key industry leaders and government officials across Europe, Asia and South America.
By the 1980s, Burson-Marsteller was the largest public relations firm in the world. Today, Burson-Marsteller has more than 130 offices and affiliates in 98 countries and six continents.
"Meeting Mr. Leaf was an invaluable opportunity to connect with one of the most successful people in public relations," said senior strategic communication student Alise Murawski. "It was great to learn about Mr. Leaf's storied career history and to ask him questions."
Leaf left Burson-Marsteller in 1997 to establish his own public relations consulting agency. He continues to speak publicly at conferences and counsel select clients.
"Leaf's insights about strategy and research are still applicable and relevant to today's public relations practice," said Margaret Duffy, chair of strategic communication faculty. "His leadership brought excellence in the practice of public relations to a worldwide stage. We are so proud that he is an alum of our program."
The Raymond M. Solomon Memorial Lecture at the Missouri School of Journalism, established in 1963 by the family of Raymond Solomon, BJ '49, features perspectives and insights from prominent advertising and public relations leaders.
Updated: September 10, 2020
Related Stories
Expand All
Collapse All
---