Distinguished Visiting Scholar Program Welcomes David Paul Nord of Indiana University
Columbia, Mo. (Oct. 16, 2007) — Students take note: To understand where journalism is going, you must first know where it's been.
That simple truth defines the work of David Paul Nord, a professor at Indiana University's School of Journalism who will lecture at the Missouri School of Journalism as part of the Distinguished Visiting Scholar program.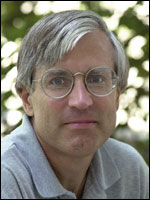 At noon on Wednesday, Oct. 24, in Tucker Forum, Nord will deliver the lecture, "What Should a Newspaper Do? Editors, Reporters and Readers Argue about Journalism in Early 20th Century New York." The event is free and open to all students and faculty.
University of Missouri Curators' Professor Betty Winfield, who teaches a class on the history of journalism, helped organize Nord's visit.
"Through his research, (Nord) has shown how journalism is and must be to be a successful and vital component of community, a concept that should be useful currently with new media, convergence and fading traditional journalism," she said.
Winfield said Nord's visit serves as a sensible, albeit early, advance for the Missouri School of Journalism's centennial celebration and the opening of the Donald W. Reynolds Journalism Institute, both scheduled for Sept. 10-12, 2008. The dual celebration will focus on preparing students and professionals for journalism in the 21st century.
Nord is recognized nationally and internationally as a pre-eminent authority on journalism history and the history of the religious press. He has authored three books, several book chapters and articles in numerous journals, including the Journal of American History, Journal of Communication and Journalism History.
Over the past dozen years, Nord has served several times as interim editor and associate editor of the Journal of American History. He currently is a volume editor for A History of the Book in America, a multi-volume project of the American Antiquarian Society and the University of North Carolina Press.
According to Nord, the press serves as an arena for a broad cross-section of the populace to participate in a common culture. Newspapers sustain the bonds of community. In America, that role has remained constant from the coverage of pandemics during the 18th century to the religious fervor of the mid-19th century and the reform movements that accompanied it into the early 20th century.
"To see where the mass media is today, no matter what form, to grapple with the support systems, the audience, the ideas about journalism, and to understand who we are as a nation, we must look at our journalism historically for ideas, patterns and trends," Winfield said.
The Distinguished Visiting Scholar program began unofficially two years ago with a visit from Pamela Shoemaker, the John Ben Snow Professor at the S.I. Newhouse School of Public Communications at Syracuse University. She met with doctoral and graduate students and delivered a brown bag lecture. Dean Mills, dean of the School, was so impressed that he launched the program shortly thereafter. It typically invites at least two scholars to the School each year.
Updated: August 28, 2020
Related Stories
Expand All
Collapse All
---