Associate Professor Elizabeth Brixey awarded the 2019 Maxine Christopher Shutz Award and Lecture for Distinguished Teaching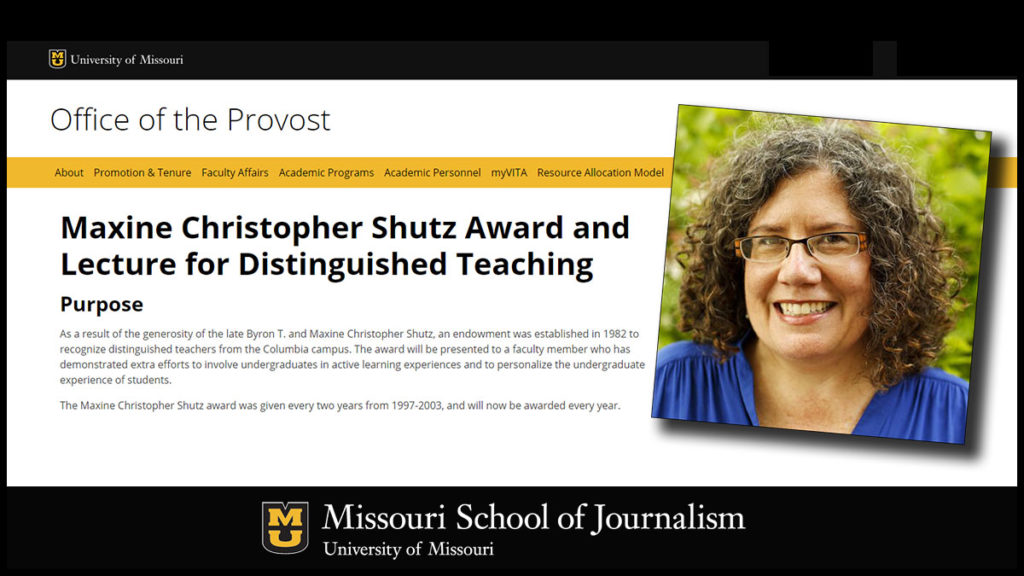 Associate Professor Elizabeth Brixey is the first University of Missouri journalism professor to receive the Provost's Maxine Christopher Shutz Award and Lecture for Distinguished Teaching.
Columbia, Mo. (Oct. 30, 2019) — Missouri School of Journalism Associate Professor Elizabeth Brixey has received the 2019 Maxine Christopher Shutz Award and Lecture for Distinguished Teaching. The award carries with it a $2000 prize. According to the Provost's website, Brixey is the first journalism professor to receive this award.
"I'm honored and grateful to receive this recognition for undergraduate teaching," Brixey said. "The truth is, any number of Journalism School faculty members would be qualified for this award, and the fact that I was chosen means the world to me."
The award is presented to a full-time faculty member who has demonstrated extra efforts to involve undergraduates in active learning experiences and to personalize the undergraduate experience of students.
"Professor Brixey embodies the core elements of the award through her tireless work to engage undergraduate students in meaningful active learning environments," said David Kurpius, dean of the School of Journalism. "Her approach is one of fun and laughter, combined with a serious and direct focus on quality and success."
Nominators said Brixey's deep commitment to students and her high expectations make her an ideal candidate for this award:
"Elizabeth epitomizes every facet of what a good teacher should be. She invests in her students not only her breadth of knowledge about the skills a journalist needs to succeed, but also the kind of individual attention that ensures her lessons will take hold."
"What really sets Liz apart is not her skill as a journalist or editor. It's the way she cares about and for her charges. She is an excellent listener and a perceptive mentor. Her students recognize this and they seek her advice in all manner of academic, journalistic and other areas."
"She's no softy; students in her classes aren't assessing her highly because they've had a lark of a semester. It's the combination of intensity and love that comes through when she's telling a student to find another interview subject or a document, to rewrite a story or a headline or a summary, or to check again the spelling of a source."
"I can honestly say that I have never met a professor who cares more for her students or who dedicates more of her time and energy to making sure that she is customizing the learning experience of each one of them."
"For Liz, it wasn't enough to give an assignment or edit a story. She pushed me to be a better writer by sitting with me, sometimes for hours, coaxing my stories to be clearer and more compelling."
"To the students, she is our biggest cheerleader, the reason why many Missourian reporters choose to hang out at the newsroom and a strong advocate for Missourian reporters from other countries."
"Liz is never content with her students simply learning the mechanics of journalism, but wants to make sure we also become better citizens and scholars. I benefited from her teaching and mentorship for two years, and continue to benefit from that foundation in my current job as a local newspaper."
Brixey joined the School in August 2003, after working for 17 years at the Wisconsin State Journal in Madison. She has been a fellow in two National Endowment for the Arts journalism institutes: in classical music and opera at Columbia University (2007) and dance at the American Dance Festival at Duke University (2009). Brixey has also been a fellow in MU's Difficult Dialogues program and coordinates the annual Atwater Writing Contest at the School. She earned a bachelor's degree from the Missouri School of Journalism in 1985 and a master's degree in 2013.
Maxine Christopher Shutz was a member of the Board of Curators from 1953-59 and was the first woman to be appointed to serve a full six-year term. She is an alumnus of the Class of 1923 with a Bachelor of Arts degree. She was President of the freshman class, active in the YWCA, and received the Omega Award in sociology at graduation. She established this award in 1983, two years before her death, to recognize distinguished teaching by faculty members at MU.
Updated: November 10, 2020
Related Stories
Expand All
Collapse All
---