Edward Hart Named 2014 Winner of the Atwater Prize for Writing
Judges Describe His Work as Compelling, Detailed and Masterful
Columbia, Mo. (April 30, 2014) — Graduate student Edward Hart is the 2014 winner of the Atwater Prize for Writing, an award given in honor of the late Jim Atwater, former dean and faculty member of the Missouri School of Journalism.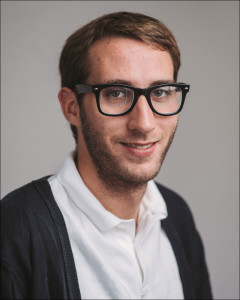 Hart, BJ '13, will complete his master's degree in magazine journalism in August. He's originally from Kansas City and majored in English, journalism and philosophy at the University of Missouri. He has interned for The Believer magazine and The Kansas City Star, and his writing has also appeared in Missouri Life magazine.
"Ted has a striking mastery of pace, tone and language; he conveys a thorough command of his subject, which rests on a solid foundation of detailed reporting; he moves gracefully and effortlessly between voices – his writing is as compelling in first person as it is in third; he has masterful control of organization, which draws a reader with the first words and doesn't let him go until the very last ones," the judges said of Hart's work.
Hart submitted three stories to the contest:
"A Home at Last," published in the Aug. 18, 2013, issue of The Kansas City Star Magazine. The article tells the story of a shelter for mothers who are recovering from addiction and their children through the eyes of the houseparents.
"No Ifs, Ands or Butts," published in the Oct. 3, 2013, issue of Vox Magazine. The article is both a first-person narrative about my attempts to quit smoking and an interrogation of the way smoking has been excised from contemporary culture.
"In Their Hearts and Souls," published in the April 2014 issue of Missouri Life magazine. This is a profile of Concordia, Mo., a town whose turbulent and benevolent past courses through the veins of the town's relics and its proud people.
Hart receives $500 and a copy of Eudora Welty's "One Writer's Beginnings," which was a favorite of Atwater. This annual prize is given in memory of his love of writing, this J-School and its students.
Updated: July 24, 2020
Related Stories
Expand All
Collapse All
---