Edward Hart Wins the 2014 Don Romero Prize for Outstanding Magazine Journalism
Judges Note His Ability to Combine Solid Reporting and Nimble Storytelling to Craft Impactful Stories
Columbia, Mo. (April 30, 2014) — Missouri School of Journalism graduate student Edward Hart is the 2014 winner of the Don Romero Prize for outstanding magazine journalism.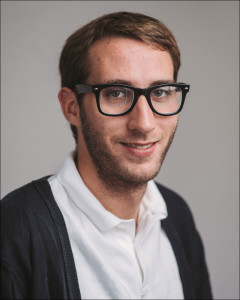 The prize was established in honor of Don Romero, a former magazine professor at the Missouri School of Journalism, by two of his former students. The award acknowledges Romero's contribution to and his encouragement of outstanding magazine journalism.
Hart, BJ '13, will complete his master's degree in magazine journalism in August. He's originally from Kansas City and majored in English, journalism and philosophy at the University of Missouri. He has interned for The Believer magazine and The Kansas City Star, and his writing has also appeared in Missouri Life magazine.
"It's both thrilling and completely humbling to win the Romero Prize," Hart said. "I've always admired the work of some of the previous winners and to be counted among their ranks is an amazing honor."
Hart's work stood out to the judges among a group of talented writers and quality entries.
"He has the ability to combine solid reporting with nimble storytelling," the judges said. "He used that combination to craft stories that were well told and impactful."
Hart submitted three stories to the contest.
"Starting from the Ground Up," about the rebuilding of Joplin, is a gripping tale. Intricate details from survivors about what happened to them that day added gritty realness to the story, while information about the cleanup's progress and cost created an essential foundation of reality, resulting in a story that was human and relatable. The story was published in Dec. 15, 2011, issue of Vox Magazine.
"No Ifs, Ands or Butts" is a personal narrative about quitting smoking. The story itself is breezily written, with deft pacing and elements of tension that made it an enjoyable read, while also including well-reported context about the broader issue at hand. The story was published in the Oct. 3, 2013, issue of Vox Magazine.
"A Home at Last" is a touching story about one woman's courageous mission to create a safe refuge for homeless women recovering from drug addiction and their children. The article was published in the Aug. 18, 2013, issue of The Kansas City Star Magazine.
Hart receives a $750 award.
Updated: July 24, 2020
Related Stories
Expand All
Collapse All
---