J-School Senior Creates New Campus Niche Magazine
By Sheniqua Faulkner
Columbia Missourian
Columbia, Mo. (May 10, 2005) — Oprah Winfrey, watch out. Another Chicagoan has her eye on your job. Tyra Hughley, originally from Naperville, Ill., a suburb of the city, believes she has what it takes to be the next media queen.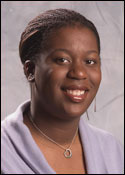 "One day, I hope to have my own media conglomerate," Hughley said. "I want to be like Oprah…but Tyra!"
The MU senior, majoring in magazine journalism, is creating her own magazine, Quad U: Where Heritage Meets Hype.
Hughley said she knew she wanted to run her own magazine but wasn't sure how feasible the project would be, given financial and human resource constraints. She got serious about creating a magazine for minority students the summer before her junior year after speaking to a friend who attends Spelman College in Atlanta. The friend had started a magazine for students at historically black colleges and universities.
"I was amazed because she was still a student," Hughley said. "We met up and discussed how she did it, and I decided that I could do what she did, only better."
Hughley said she waited until her senior year to launch the magazine because the required workload conflicted with school. To combat the financial burden a printed magazine would carry, Hughley thought of a solution.
"When I began thinking about it more and more, I realized that the magazine could be an online magazine and that would really cut costs," she said. At that point, Hughley commissioned help from others who she thought could give her realistic advice.
To assemble a staff of reporters, Hughley asked people she knew who might be interested in writing for a magazine, particularly one focused on minority students. Most of the Quad U staff, many of whom are students at schools other than MU, are minorities, representing many cultures.
Early on, Hughley asked her cousin, MU junior Chauncia Boyd, to help her with the project. Boyd is senior editor and chief copy editor for Quad U. Boyd said she has high hopes for the magazine.
"I hope it is well-received by the target audience, but also by people not in the target audience," Boyd said. "I'd also like to see it go to print."
Hughley echoed her cousin's wish for the magazine to expand to other forms. "Eventually, as we are able to accumulate advertisers and a readership base, I hope to move to print and Internet," she said.
The magazine, which is planned to feature 10 sections, aims to establish a readership of 8,000 to 10,000 minority students at 50 colleges nationwide.
Updated: April 7, 2020
Related Stories
Expand All
Collapse All
---