CollegeMagazine.com Ranks the Missouri School of Journalism No. 1
Real-Media News Outlets, 30-Plus Interest Areas and Extensive Alumni Network Are Cited as Key Strengths
Columbia, Mo. (July 29, 2014) — CollegeMagazine.com has named the Missouri School of Journalism the No. 1 journalism school in the U.S.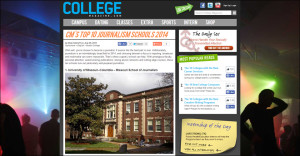 Ross Tetzloff, a sophomore English major at Boston College, oversaw the 2014 rankings report. He said the first step in the process was to look at a wide variety of areas such as classes, hands-on learning opportunities and awards before narrowing the list of top contenders down to about 20.
Tetzloff then did an in-depth search on these schools, examining the course catalog, faculty expertise, alumni connections, career resources and the like.
The final step was to visit with currently enrolled students.
"This is what really allowed the flavor of each school to come out," Tetzloff said. "The conversations made the information about the schools click."
The CollegeMagazine.com feature on Missouri includes a photo of Walter Williams Hall. The commentary notes: "Missouri's excellence runs far deeper than its awards." The more than 30 interest areas, the Missouri Method of hands-on learning in real-media news outlets and agencies as well as the extensive alumni network are some of the key strengths mentioned.
Visit CollegeMagazine.com to read the full story. The publication, written by students for students, covers issues that affect campuses nationwide. Its goal is to help students balance the academic and social aspects of college life.
Updated: July 30, 2020
Related Stories
Expand All
Collapse All
---