Missouri School of Journalism Voted No. 1 in Annual NewsPro-RTDNA Poll
Students' Real-World Experience, Adaptability Rank High with Professionals
Chicago (Dec. 22, 2015) — For the third year in a row, the Missouri School of Journalism is No. 1 in the 2015 NewsPro–RTDNA survey of the country's top journalism schools. News professionals cited the Missouri Method – hands-on experience in real-world newsrooms and agencies – as the primary reason why Missouri continues to lead the way.
The survey results were published in the article, "Survey: The Top Journalism Schools. Real-World Experience, Adaptability Rank High with Voters in the Annual NewsPro-RTDNA Poll," in the December 2015 issue of Crain's NewsPro, the Magazine for News Professionals.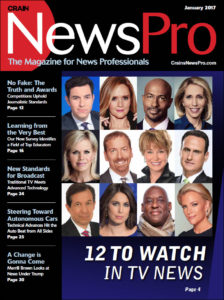 "We are proud of our students, who work alongside great professionals on our faculty and staff to provide nationally award-winning news and information to people across Missouri and around the world," said Dean David Kurpius. "This honor adds to the more than 100 years of evidence that effective use of the Missouri Method in the Missouri School of Journalism's seven professional news outlets and two strategic communication agencies produces the best results."
Reporter Dennis R. Liff writes in the article:
The nation's oldest journalism school remains on the cutting edge, according to respondents, and continues to get high marks for the "Missouri Method," which uses a curriculum combining classroom teaching, multimedia laboratory experience and hands-on work experience.
The school's real-world outlets, including the Columbia Missourian newspaper and website and the TV station KOMU, an NBC affiliate, give the Missouri School of Journalism a big advantage when it comes to providing practical experience. The result of the program's combined approach, according to survey voters, is students who are ready to do the job and able to adapt to a rapidly changing industry.
"The Missouri Method gives students hands-on experience in a digital newsroom, at a commercial network television affiliate and in an NPR member station newsroom," wrote one voter. "This prepares students for their first jobs with practical experience and the digital skills needed by journalists today."
Another respondent put it this way: "If you really want to know what your field is like, go to Mizzou. They throw you in head first, and you learn quickly whether you can swim. No sugar-coating, no sick days, no excuses. In many ways, it's actually much tougher than being in the real world."
Other voters cited Missouri's "exceptionally well-connected alumni network" and the school's "long history of producing quality journalists." Still another respondent noted, "University of Missouri continues to lead in emerging media."
Alexis Rogers, BJ '14, is now a general assignment reporter at KATV ABC 7 in Little Rock, Arkansas. She recently received a Mid-America Regional Emmy nomination for her work there. As a radio-television journalism student at Missouri, Rogers anchored and reported for KOMU-TV and KBIA-FM as well as completed internships at Clear Channel Media and Entertainment in Chicago and WRC, NBC Washington. Rogers also anchored, wrote and produced for Newsy.com and produced multifaceted videos for clients such as Time Magazine, Huffington Post and AOL.
Rogers said the experiences she gained while working at KOMU, KBIA and other outlets allowed her to start at a more advanced level and gave her more options than most recent college graduates enjoy.
"My management did not look at me as a 'kid fresh out of school'. I was a professional with more than three years of experience," Rogers said. "Knowing how to write, shoot, edit, and run my own live shot on a deadline was something I was confident in doing. Our journalism program allowed me to excel in a mid-sized market immediately upon graduation, while being equipped to get better."
Following Missouri's No. 1 ranking was the Medill School of Journalism and Mass Communication at Northwestern University and the Graduate School of Journalism at Columbia University.
In addition to the KOMU, KBIA-FM and the Missourian, the School's other professional newsrooms are Vox Magazine, a weekly city magazine; Missouri Business Alert, the state's only business publication; Global Journalist, a digital magazine and weekly radio program geared toward international journalists; and Missouri Digital News, a statehouse capital bureau. Two strategic communication agencies serve the needs of multinational, regional and local clients: MOJO Ad specializes in the Youth and Young Adult, ages 18-24, market, and AdZou develops research-based campaigns for a variety of companies and organizations.
Updated: September 14, 2020
Related Stories
Expand All
Collapse All
---