Journalism Professor Ranked No. 1 Researcher in Internet Advertising
Shelly Rodgers Studies Internet Advertising, News and Health Communications
By Katherine Kostiuk
MU News Bureau
Columbia, Mo. (Oct. 4, 2006) — Since its conception, Internet use and popularity have grown rapidly. According to Nielsen/NetRatings, the number of Internet users continues to grow, and the average American user spends 25 minutes per day online. To understand trends in Internet communications, marketing and advertising, researchers around the country study Internet use. A recent study turned the tables and examined the state of Internet-related studies. It found that a Missouri School of Journalism researcher is leading the way in Internet advertising research.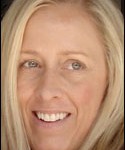 The study ranked Shelly Rodgers, associate professor of strategic communication, as the No. 1 researcher in Internet advertising and No. 4 researcher in Internet advertising, marketing and communications. The rankings were based on the number of articles published in 15 peer-reviewed journals between 1994 and 2003.
"This is a pleasant surprise, considering I had been publishing just three years during the timeframe of the study," Rodgers said. "It's such an honor to be ranked at all, much less with the top Internet scholars in the country."
Rodgers's research examines information processing of Internet messages, focusing on Internet advertising, news and health communications. Her health research tries to determine the best ways to create and deliver health messages so that online consumers can be informed and change their behaviors for the better. She has conducted several studies on cancer communication, and her recent endeavors with anti-smoking communications have resulted in a model Web site piloted in Columbia and planned for use in other Missouri cities. The research is in collaboration with Kevin Everett, assistant professor in the Department of Family and Community Medicine in the School of Medicine at the University of Missouri-Columbia, and funded by a Missouri Foundation for Health grant.
"The idea is to use the Internet Web site as a vehicle to train community and campus alliances – individuals who care passionately about smoking issues – on how to develop and create effective strategic communication campaigns of their own," Rodgers said. "Given the interactive nature of the Internet, it's a highly effective medium in which to conduct this sort of online training. It's our hope that this 'train the trainer' model could serve as a case study to be used by other researchers interested in harnessing the energy and enthusiasm of campus and community groups that care about health issues in their communities."
The study of Internet-related research was done by Chang-Hoan Cho of the University of Florida and HyoungKoo Khang of Sungkyunkwan University in South Korea and published in the fall 2006 Journal of Advertising. Its aim was to help scholars understand past and future research directions that would improve knowledge of the Internet.
Updated: April 13, 2020
Related Stories
Expand All
Collapse All
---