Students Learn the Importance of Acquiring New Business
Columbia, Mo. (March 15, 2005) — "How to Pitch New Business" was the focus of a recent one-hour Strategic Communications course at the Missouri School of Journalism. Sandy Kornberg, BJ '64, and Gary Burandt, BJ '66, served as the visiting professors.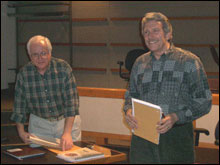 During the course of a week, students learned that pitching new business is a process where relationships are key, and that pitching is not simply a presentation given to prospective clients. According to both instructors, new business is important in winning new clients, and is how new revenue is generated. And Kornberg and Burandt really know what they're talking about after more than 60 years of combined experience in the ad business.
Currently, Kornberg frequently works as an international consultant for the Central European Advertising Art Institute in Prague, Czech Republic. Burandt is the executive director of ICOM, the leading international network of independent advertising agencies.
Senior Jessica Wiese was especially impressed with the quality of the instruction and class material. "Overall, it was a great experience. Gary and Sandy were great mentors and teachers. I learned as much in a one-hour course as I would in a three-hour course."
In addition to teaching the fundamentals of a new business pitch, Burandt said that he hoped "to give students a spirit and passion for new business."
Why new business?

Key to growth
Insures the future
Builds agency's reputation
Boosts staff morale
Helps recruiting
Fosters competition
Lots of fun
Kornberg was just as passionate about teaching something new to the students. "It's a real thrill for me to be teaching this class. MU is the origin of the beginning of my career. The students are so creative and energetic. I always enjoy coming back and interacting with them."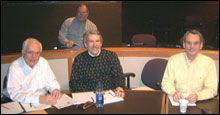 As part of the course requirement, students were given the task to come up with a "Big Idea" for a new product called Fire 1st Defense which is currently in the test market stage of development.
Fire 1st Defense is a patented push-button fire extinguisher. About the size of a can of hairspray, Fire 1st Defense can put out a small kitchen fire and is easier to use than a traditional fire extinguisher.
Real-life client Jim Quest, a seasoned advertiser, consultant and entrepreneur, gave the teams this challenge for competition: Devise a new business and marketing strategy for Fire 1st Defense, and prepare a presentation for 8 a.m. Saturday morning.
With less than three days to complete the project, the stakes were high as students were split into Red and Blue teams. Instructors and students alike were surprised by the work they accomplished and the lessons they learned.
For instance, students learned that hard work in a time crunch is time well spent. "There's no better way to spend a Friday night than preparing for a presentation with good friends," senior advertising major Greg Shadwick told guest instructors, J-School faculty and fellow students at Saturday morning's presentation.
Instructors and client Jim Quest all noted the quality of the presentations by the two teams. They were especially impressed with the students' work given the timeframe.
For the final presentation, the Red Team took a grassroots approach, focusing its tactics on the upcoming test market for Fire 1st Defense. On the other hand, the Blue Team suggested a national campaign that resembled public service announcements. In the end, the Blue Team was victorious, winning the pitch.
After the presentations, Quest announced that he would take the MOJO Agency into consideration when it comes time to pitch other branded products that he has in the works for a market introduction. MOJO is an experimental class for senior advertising majors where they function in a real agency setting.
Updated: April 2, 2020
Related Stories
Expand All
Collapse All
---