Students Commemorate 223 Walter Williams Memories with Special T-Shirts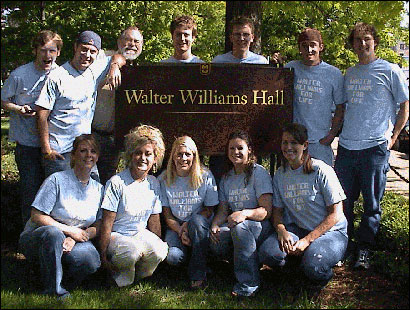 Columbia, Mo. (May 4, 2005) — When the students of Professor Steve Kopcha's Creative Portfolio class realized that 223 Walter Williams, the computer lab, will disappear in the construction process for the new Donald W. Reynolds Journalism Institute, they decided to memorialize the venerable place in the form of special T-shirts. Official groundbreaking ceremonies for the Institute will be Sept. 1 at the School. All alumni and other interested persons are invited to attend.
The front of the shirt says: Walter Williams for Life. The back: R.I.P. 223 "Good ads. Good times."
Katie deSplinter was the creative force behind the idea and the design itself. "Graduating ad majors have spent half their college life in this lab. We love the place. We hate the place. We needed a T-shirt. End of story," she said.
And the end of an era: 223 Walter Williams, R.I.P. indeed.
Updated: April 7, 2020
Related Stories
Expand All
Collapse All
---