News Professionals Select Missouri as the Top J-School in the Country
The 'Missouri Method' of Hands-On, Real-Media Training Cited for No. 1 Ranking
Columbia, Mo. (Dec. 17, 2013) — News professionals have selected the Missouri School of Journalism as the top J-school in the country in the 2013 NewsPro–Radio Television Digital News Association Top Journalism Schools poll.
"Survey: The Top 25 Journalism Schools – NewsPro's Survey of J-Schools Reveals the Best in the U.S." was published in the December 2013 issue of NewsPro, the magazine for news professionals.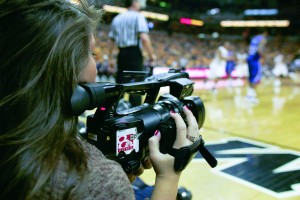 The survey cited the "Missouri Method," which allows students to receive hands-on training in real news media, as the primary reason for the No. 1 ranking. The School operates community-based news outlets: KOMU-TV, mid-Missouri's NBC station; KBIA-FM, an NPR-member station; Columbia Missourian, a digital-first newspaper; Vox magazine, a weekly city magazine; and Global Journalist, a converged newsroom that covers international issues. Strategic communication students develop comprehensive research-based campaigns for real clients at two agencies: MOJO Ad, which focuses on the 18-to-24 demographic, and AdZou.
"It's very gratifying to see TV news professionals vote so overwhelmingly in support of our program," said Stacey Woelfel, associate professor of radio-television journalism at the School and news director for KOMU. "Their endorsement tells us our students are getting the best lessons they can to prepare them to be journalists who hit the ground running and have a well-rounded skill set to employ from their first days on the job."
A total of 1,321 RTDNA members responded to the survey, with 42.9 percent indicating they were news professionals. Other respondents included students, non-news professionals and educators.
The article included a quote from one who supported Missouri's top ranking.
"The Missouri program, with its commercial television operation, offers the practical hands-on experience needed by young journalists looking for that first job. Two or three other schools have similar programs, but not at the same level," the respondent said.
Following Missouri's No. 1 ranking was Northwestern University's Medill School of Journalism, University of Georgia's Grady College of Journalism and Mass Communication and Syracuse University's S.I. Newhouse School of Public Communications.
Updated: July 21, 2020
Related Stories
Expand All
Collapse All
---