NPR, Associated Press Pick Up KOMU-TV Story
Missouri Journalism Student's Report About Spilled Nails Captures National Attention
Columbia, Mo. (Oct. 28, 2015) — A KOMU-TV story by Missouri School of Journalism student Chris Gothner was the lead story of the 7:30 a.m., Tuesday, Oct. 27, edition of Morning Edition on NPR. The Associated Press and CNN were among other news outlets that carried the news report.
Approximately 400,000 nails spilled on I-70 a few miles west of the Columbia city limits. Westbound traffic was backed up for hours while Missouri Department of Transportation workers cleared the road.
The story was a joint effort between two radio-television journalism students. Derek Brizendine worked the scene, gathering photographs, video and other information. Chris Gothner produced the multimedia package at the station. The story included a 30-second video that aired on newscasts and a story on the KOMU.com website.
Social media was an integral part of the story. Brizendine tweeted from the field. Gothner scoured the Twitter feeds of trusted sources such as MoDOT's central division and joint communications offices. He both retweeted that information and used it to continually update the Web story. Assistant Professor Annie Hammock managed Facebook.
More than 8,000 people viewed the main Web story. The Facebook post about the story had a reach of more than 77,000 unique views.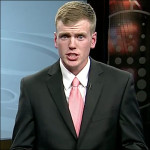 KOMU is the only university-owned commercial network affiliate in the U.S. that uses its newsroom as a learning lab for students at the Missouri School of Journalism. Affiliated with NBC and CNN, the station reaches approximately 40,000 homes in mid-Missouri.
The team effort reminded Hammock of a comment made by Meredith Artley, BJ '95, editor in chief of CNN Digital. Artley was on campus on Oct. 26 to accept the Missouri Honor Medal on behalf of the news organization.
"Meredith told a gathering of freshmen that journalism is never a solo effort; the key to success is collaboration," Hammock said. "This story demonstrates how Missouri journalism students learn how to work as a team while in school."
Updated: September 10, 2020
Related Stories
Expand All
Collapse All
---