KOMU, The Columbia Missourian Win 12 Honors at the Kansas City Press Club Heart of America Awards
Columbia, Mo. (June 24, 2010) — The Missouri School of Journalism took home an impressive number of awards – 12 in total – from the Kansas City Press Club Heart of America Awards banquet held earlier this month.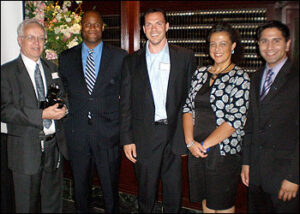 The Kansas City Press Club, a chapter of the Society of Professional Journalists, uses the Heart of America Awards to honor outstanding reporting, writing and photography in print, broadcast and online journalism in eastern Kansas and western Missouri.
KOMU won the lion's share, scoring 11 awards, including a special award for Television Station of the Year. With seven gold and two silver awards, plus one honorable mention, KOMU received recognition in nearly every small market television category. KOMU is the only university-owned commercial television affiliate that uses its newsroom as a working lab for students. The award winners work as faculty and mentors for radio-television journalism students.
"At KOMU, we really try to live the Missouri Method every day, in teaching as well as setting an example of great journalism," said Holly Edgell, who emceed the banquet. "These awards, including one for our alumnae Meredith Miller, inspire faculty and staff in the newsroom and remind us why we are here." Edgell is an assistant professor of radio-television journalism and serves on the SPJ national board as Region 7 director.
The Columbia Missourian won a gold award in the news column-writing category for a collection of columns written by master's student Brian Jarvis. A community news organization directed by professional editors, the Missourian is staffed by students who do the reporting, design, copy editing, information graphics, photography and multimedia.
NBC News correspondent Ron Mott, who earned a bachelor's degree in political science from the University of Missouri in 1994, delivered the banquet's keynote speech. In discussing his modest upbringing in Kansas City to winning an Emmy nomination for his coverage of Hurricane Katrina, Mott encouraged the audience to nurture up-and-coming reporters.
"Growing up, I got a chance to meet and work with some really terrific journalists, and I was inspired by them to pursue my dreams," Mott said afterward. "I hope everyone walked away with a renewed commitment to strengthening our profession by continued dedication to finding the truth and by mentoring a new generation of journalists – with enthusiasm, wisdom and great care."
Kansas City Press Club Heart of America Awards
Gold
Feature: "Honor Flight: Sarah's Stories," Sarah Hill, BJ '93; Scott Schaefer, BJ '04; Scott Schmidt, KOMU
Photojournalism: "Dance Boots," Scott Schaefer, KOMU
Sports: "Tiger Toilets," Eric Blumberg, BJ '97; Scott Schaefer, KOMU
Public Service Project: "Show Me Honor," Barb Brueggeman; Sarah Hill; Scott Schaefer; Scott Schmidt; Stacey Woefel, BJ '81, MA '90, PhD '06; Marty Siddall; and Matt Garrett, KOMU
Documentary Program: "Call to Honor," Sarah Hill, KOMU
Regular Franchise Feature: "Sarah's Stories: Sarah Hill Compilation," Sarah Hill; Scott Schaefer; Scott Schmidt, KOMU
News Column: Brian Jarvis, master's student, Columbia Missourian
Silver
Newscast: "KOMU 8 News at 6," Meredith Miller, BJ '10; Randy Reeves, MA '96, KOMU
Sports: "50-Mile Runner," Eric Blumberg; Scott Schaefer, KOMU
Honorable Mention
Feature: "Shop with a Cop," Megan Murphy, BJ '04; Scott Schaefer, KOMU
Special Awards
Television Station of the Year: KOMU
Updated: May 13, 2020
Related Stories
Expand All
Collapse All
---