Claudia Guthrie Named Winner of Kansas City Press Club Scholarship
The Junior Magazine Journalism Major Will Receive $750 for the 2016-17 Academic Year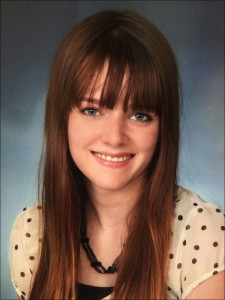 Kansas City (June 6, 2016) — Claudia Guthrie, a junior magazine journalism major at the Missouri School of Journalism, is the 2016 winner of a scholarship from the Kansas City Press Club.
The $750 award is made to a student who has compiled a good academic record, shows genuine promise of a successful career in journalism as defined by the Society of Professional Journalists and whose educational process would be furthered with the award.
The Kansas City Press Club is affiliated with SPJ. Members are dedicated to encouraging a climate in which journalism can be practiced more freely and fully, stimulating high standards and ethical behavior in the practice of journalism and perpetuating a free press.
Guthrie is from Lee's Summit, Missouri. She has reported for The Maneater, the independent campus newspaper, and the Columbia Missourian, a faculty-supervised, student-staffed community newspaper that serves the approximately 150,000 citizens in Boone County. She served as a student counselor for the 2015 Missouri Urban Journalism Workshop.
"It is gratifying to know that the KC Press Club understands the needs and challenges facing our students and how these relate to the profession," said Lynda Kraxberger, associate dean for undergraduate studies. "We congratulate Claudia on being selected for this honor."
Updated: September 29, 2020
Related Stories
Expand All
Collapse All
---