KOMU Faculty and Students Win 13 Heart of America Awards from the Kansas City Press Club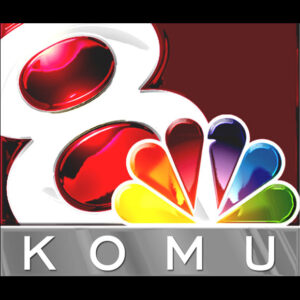 Station Serves as News Lab for Radio-Television Journalism Students
Columbia, Mo. (June 15, 2007) — Missouri School of Journalism radio-television journalism faculty and students recently took home 13 Heart of America Awards – including top honors for Best Newscast and second place for Best Web Site – for work produced and aired on KOMU. It is the only university-owned commercial television station in the United States that uses its newsroom as a working lab for students.
"We continue to strive for excellence in our newscasts, and we are bringing that same excellence to our Web site," said KOMU News Director Stacey Woelfel. "We are constantly looking at ways to expand to meet our viewers' demands, and it's great to be recognized by the Kansas City Press Club for doing so."
In addition to the four gold, six silver and three bronze awards, KOMU won an honorable mention in the franchise feature category. The Kansas City Press Club uses the Heart of America Awards to honor outstanding reporting, writing and photography in print, broadcast and online journalism in eastern Kansas and western Missouri.
The awards and the faculty members who supervised the work include the following:
Gold
Newscast Category
KOMU News @6 for the story "Renick Tornado"
Photojournalism Category
Instructor Scott Schaefer for the story "Drum Corps"
Sports Category
Instructor Eric Blumberg for the story "David Overstreet"
Investigative Reporting Category
Radio-television journalism senior August Skamenca for the Target 8 story "Dead Voters"
Silver
Photojournalism Category
Instructor Scott Schaefer for the story "Horse School"
Sports Category
Instructor Eric Blumberg for the story "Challenger Baseball"
Investigative Reporting Category
Instructors Matt Flener and Scott Schaefer for the Target 8 story "Immigration in Depth"
Feature Category
Instructors Sarah Hill and Brad Noblitt for the entry "Sarah's Stories: The Prom"
Regular Franchise Feature Category
Instructors Angie Bailey and Scott Schaefer for the entry "Your Health with Angie Bailey"
Best Web Site Category
(Category included print, radio and television for all markets)
KOMU.com
Bronze
Newscast Category
KOMU News @10
Regular Franchise Feature Category
Instructors Josh deBerge and Scott Schaefer and Assistant Professor Holly Edgell for the story "Journeys with Josh: 7 Wonders of Missouri"
Photojournalism Category
Instructor Scott Schaefer for the story "Man in Tree"
Honorable Mention
Regular Franchise Feature Category
Assistant Professor Gary Grigsby and News Anchor Jim Riek for the entry "What Ever Happened To…"
Updated: April 17, 2020
Related Stories
Expand All
Collapse All
---