KOMU Switches to New Avid NewsCutter Editing System
Columbia, Mo. (March 8, 2004) — KOMU was among the first television stations in the world to switch to digital editing. Now, a new editing system will enable KOMU to be among the first stations to operate a tapeless edit and playback system.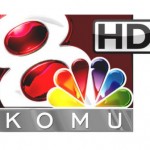 KOMU recently made the switch from the tape-based Media 100 to the Avid NewsCutter. Avid NewsCutter is the most advanced editing system that exists. It is a networked, server-based editing system, which allows students to access video and audio from the eleven workstations KOMU provides. Tapes will no longer be used because the stories will be sent to a server and aired from there.
"The entire newsroom has access to every reporter's raw video," said Jennifer Reeves, executive producer. "That cuts down on the time students have to edit extra video for newscasts. They can focus more on the journalism and less on the production side of the newscasts."
Benefits of the Avid NewsCutter are many, including improved quality of newscasts. KOMU reporter/anchor Matt Talhelm says he has already noticed the improvements in his stories. Talhelm, a junior studying broadcast news, is from Chambersburg, Pa.
"Better editing definitely helps improve the overall look of my stories, which will help me find a job after college," Talhelm said. "Plus, I'm now trained on one of the best news editing systems around, so I'll know how to edit with the same techniques as larger market editors."
Each semester about 125 students work at KOMU News on part-time shifts. Students reports, write, and produce all the newscasts at this NBC affiliate, the only commercial station in the country used by a university as a teaching lab.
Avid NewsCutter provides more one-on-one interaction between faculty and students, said Stacey Woelfel, news director.
"Students are now able to work across different areas in the newsroom to write, edit and complete their stories with the attention of faculty supervisors," he said.
Reeves said she is very excited about the change. "I'm impressed with how quickly the student reporters and producers are learning the new system, and I look forward to having everyone fully trained into the new system."
Updated: March 12, 2020
Related Stories
Expand All
Collapse All
---