KBIA-FM, KOMU-TV Win 11 Awards from Missouri Broadcasters Association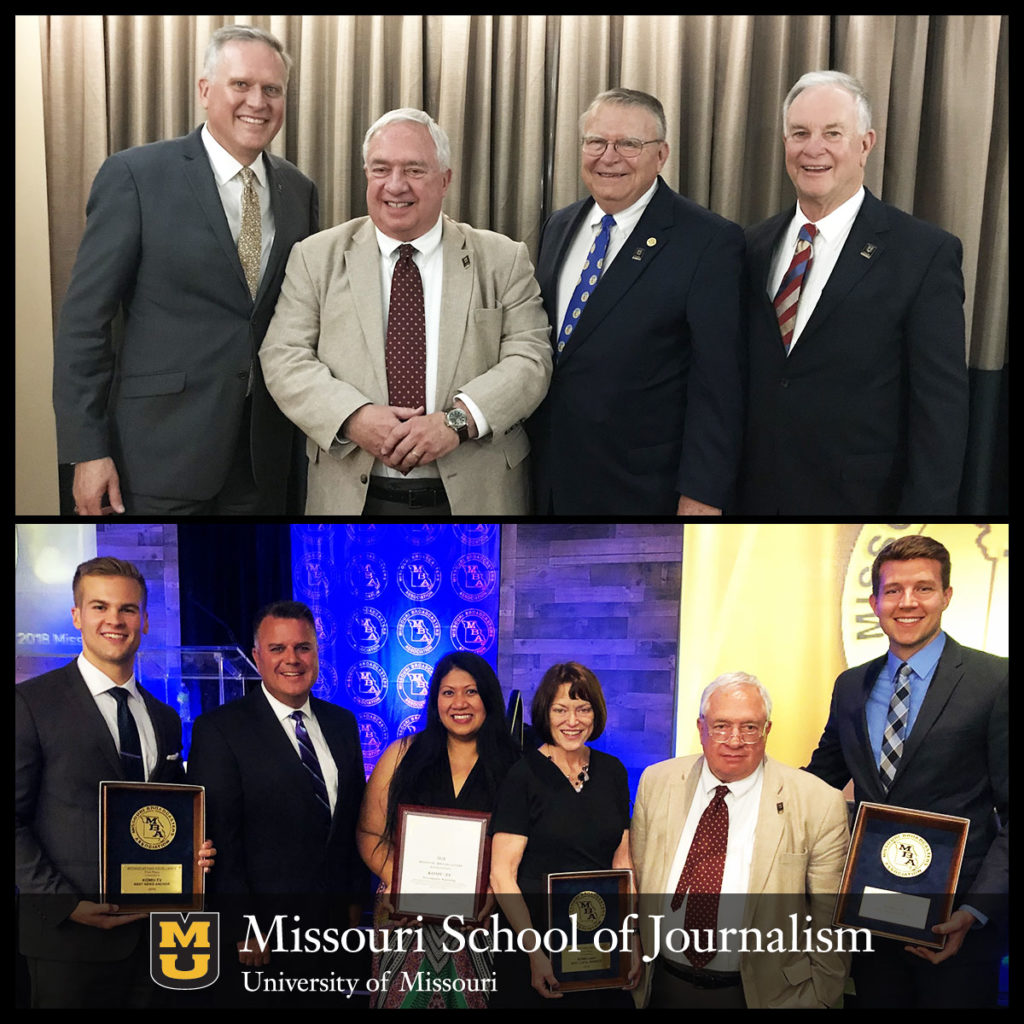 University of Missouri faculty, staff and alumni on hand for the 2018 Missouri Broadcasters Association award banquet included (top, left to right) Dean David Kurpius; Kent Collins, BJ '70, associate professor; Bob Priddy, BJ '63, Missourinet news director (retired); Clyde Lear, MA '68, founder of Learfield Communications. Bottom, left to right: Landon Burke, BJ '15, KOMU morning anchor; Matt Garrett, KOMU director of audience development; Jeimmie Nevalga, BJ '00, associate professor and KOMU supervising producer; Annie Hammock, associate professor and producer, KOMU website; Collins; Kenton Gewecke, BS '17, KOMU weatherman.
Retiring Associate Professor Kent Collins Receives MBA President's Award
Lake Ozark, Mo. (June 11, 2018) — KBIA-FM and KOMU-TV were honored with a total of five first-place awards from the Missouri Broadcasters Association on June 2 at The Lodge of Four Seasons. The stations also garnered six certificates of merit, and retiring Associate Professor Kent Collins received the MBA President's Award.
"Seven awards is the most we've ever won in this contest," KBIA News Director Ryan Famuliner said of his station's two first-place honors and five certificates of merit.
In the Feature Reporting category, KBIA won first place and the certificate of merit.
"It was a story reported by one of our students," said Famuliner. "Not only did (Erin McKinstry, MA '18) win the award competing against professionals across the state, the runner-up in that category was a story by one of the professionals in our newsroom. It's a testament to the fact that we hold our students to the same standards as professionals, and they rise to meet those standards."
KBIA's first-place win in the Breaking News category was based on the work of the station's professional news team, which reports during the summer when the students are gone, Famuliner said.
KOMU won top awards for news anchor Landon Burke, meteorologist Kenton Gewecke and its website. Assistant Professor Jamie Grey won a certificate of merit for her investigative report on "A Punch and a Police Report."
"The awards recognize another year of outstanding work by the KOMU team," said KOMU News Director Randy Reeves. "University of Missouri School of Journalism students get a chance to work with some of the very best in our business. All of these award winners are outstanding mentors, coaches and teachers for our students."
One of those teachers who received special recognition by the MBA was Kent Collins, chair of the radio-television journalism faculty. Collins received the President's Award for his decades of service to the industry and his support of the association.
In addition, Missouri Honor Medal recipient and longtime Missourinet News Director Bob Priddy, BJ '63, was inducted into the Missouri Broadcasters Association Hall of Fame.
Together, the two J-School broadcast media outlets won the following awards:
KBIA-FM
First Place, Breaking News, for "UM System President Outlines Budget Cuts."
First Place, Feature Reporting, for "Retired Doctor Holds on to Dwindling African-American Farming Tradition," by Erin McKinstry, MA '18.
Certificate of Merit, Feature Reporting, for "Why We're Growing the Most Sweet Potatoes Since WWII," Kristofor Husted.
Certificate of Merit, Best Local Website, for www.kbia.org.
Certificate of Merit, Complete Newscast, for morning newscast on Jan. 31, 2018.
Certificate of Merit, Documentary/Public Affairs/Special Program, for "Intersection: Lead's Pivotal Role in Missouri's Past, Present and Future," Assistant Professor Sara Shahriari and Abby Ivory-Ganja, BJ '18.
Certificate of Merit, News Series, for "The Legacy of Lead."
KOMU-TV
First Place, Best Local Website, for www.komu.com, Associate Professor Annie Hammock.
First Place, Best News Anchor, for Landon Burke.
First Place, Best Meteorologist, for Kenton Gewecke.
Certificate of Merit, Investigative Reporting, for "A Punch and a Police Report," Jamie Grey.
KBIA, mid-Missouri's NPR-member station, reaches 15 counties and has served mid-Missouri since 1972. KBIA is a university-licensed, community-supported not-for-profit institution, actively involved in the life of the mid-Missouri area. The station is the area's largest provider of arts programming, serving more than 30,000 listeners and members each week.
KOMU-TV 8 is the area's NBC affiliate, and is the only university-owned commercial television station in the U.S. that uses its newsroom as a working lab for students. KOMU is an auxiliary enterprise of the University of Missouri and generates all revenue from station operations; its investments in broadcast technology were funded entirely via advertising and retransmission revenues. KOMU receives no funding from the university or state.
Updated: November 4, 2020
Related Stories
Expand All
Collapse All
---