Missouri School of Journalism Senior Makes Worldwide Impact with 14-part Autism Series on KOMU
Columbia, Mo. (March 6, 2008) — Missouri School of Journalism radio-television journalism senior Ashley Reynolds will enter the job market after graduating this December with an impressive resume credential under her belt – a 14-part series on autism that not only reached an estimated 150,000 viewers in the mid-Missouri area, but also received worldwide attention for the depth of the reporting.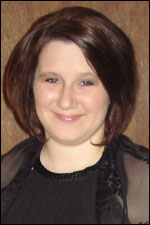 Reynolds' initial assignment was to discuss an autism study on KOMU-TV, the only university-owned commercial affiliate in the United States used as a training lab for students. The study, conducted at the University of Missouri's Thompson Center for Autism and Neurodevelopmental Disorders in June 2007, broached a small piece of the controversial debate about whether vaccines cause autism. The study found no related link between autism in children and mercury exposure during pregnancy through a specific vaccine. Reynolds interviewed a Mid-Missouri mother of an autistic child who disagreed with parts of the study, which was funded by Johnson & Johnson, the maker of the vaccine in question. Other studies in the field have cited a link, leaving room for a heated debate.
The story ran, and Reynolds was ready to move on to her next assignment.
Unbeknownst to Reynolds, her report on KOMU's Web site quickly became viral. Parents of autistic children shared the link with each other through various Internet sites, and word spread around the nation. Reynolds received 75 e-mails about the story, and that's when she realized that one story could be expanded with a larger series.
The resulting series, Combating Autism From Within, looks at autism, its underlying causes, the Midwest families affected by the disorder and potential treatments for the condition. She and a student team of producers spent six months researching, interviewing and writing the series. They traveled to four states and 10 cities. The series ran this past December on KOMU. The experience of reporting on a large and somewhat controversial health issue gave the students deeper insights into how their work affects citizens.
Stacey Woelfel, the station's news director and a radio-television journalism professor, gave the go-ahead for the project based on Reynolds' passion and her commitment to make the story something meaningful for those affected in some way by autism.
"Students have tackled big projects like this before, though perhaps Ashley has done it more single-handedly than I have seen in a long time," he said.
Reynolds took advantage of her Missouri Journalism training, the expertise of her faculty editors and her desire to get to the bottom of a story to produce a series that rivals the work of any professional reporter
Updated: April 27, 2020
Related Stories
Expand All
Collapse All
---