KBIA-FM, KOMU-TV win 12 awards from Missouri Broadcasters Association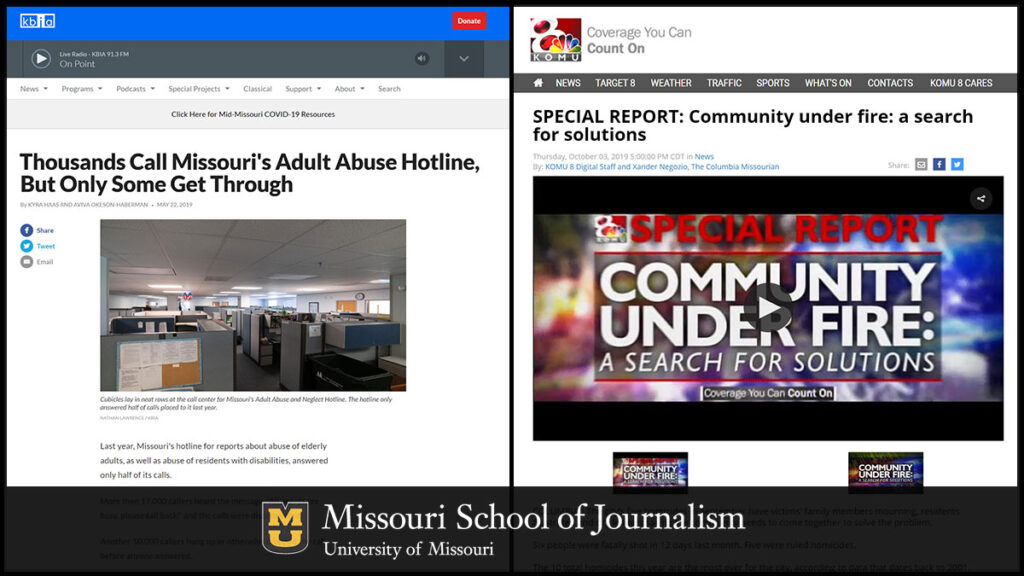 Columbia, Mo. (April 22, 2020) — KOMU-TV was honored with five first-place awards from the Missouri Broadcasters Association on April 21. In addition, both KOMU and KBIA-FM received a total of seven certificates of merit. MBA posted the results online since its convention and awards banquet in June was cancelled due to the COVID-19 pandemic.
"Later this summer, under hopefully a new normal, we will travel the state and deliver all of the awards to each of the stations in person," said Mark Gordon, president and CEO of MBA.
Together, the two J-School broadcast media outlets won the following awards:
KBIA-FM
Certificate of Merit, Feature Reporting, for "For Hundreds of Pieces of Health Care Art, A Missouri Connection" by Sebastián Martínez Valdivia, BA '13, BJ '13, MA '17.
Certificate of Merit, News Series, for "Thousands Call Missouri's Adult Abuse Hotline, But Only Some Get Through" by Kyra Haas, BJ '19, and Aviva Okeson-Haberman, BJ '19.
Certificate of Merit, Podcast, for "Show Me The State: The Gay Purge" by Kristofor Husted.
KOMU-TV
First Place, Best Photojournalist, for Ryan Takeo, BJ '10.
First Place, Best Weathercast, for Matt Beckwith.
First Place, Documentary/Public Affairs, for "Community Under Fire: A Search for Solutions."
First Place, Feature Reporting, for "Elmo's Smile" by Emily Spain, BJ '12.
First Place, Public Service Announcement or Campaign, for "KOMU 8 Cares: A Brighter Tomorrow."
Certificate of Merit, Best News Anchor, for Emily Spain, BJ '12.
Certificate of Merit, Best Weathercast, for Kenton Gewecke.
Certificate of Merit, Breaking Weather Coverage Event, for Jefferson City tornado coverage.
Certificate of Merit, News Series, for "Life Support: The Rural Health Care Crisis in Missouri."
KBIA, mid-Missouri's NPR-member station, reaches 15 counties and has served mid-Missouri since 1972. KBIA is a university-licensed, community-supported not-for-profit institution, actively involved in the life of the mid-Missouri area. The station is the area's largest provider of arts programming, serving more than 30,000 listeners and members each week.
KOMU-TV 8 is the area's NBC affiliate, and is the only university-owned commercial television station in the U.S. that uses its newsroom as a working lab for students. KOMU is an auxiliary enterprise of the University of Missouri and generates all revenue from station operations; its investments in broadcast technology were funded entirely via advertising and retransmission revenues. KOMU receives no funding from the university or state.
Updated: April 22, 2020
Related Stories