KBIA Ranked Second in Nation; Provides Professional Training for Students
Columbia, Mo. (March 10, 2005) –– KBIA-91.3 FM, the University of Missouri's public radio station, is ranked #2 out of nearly 800 public radio stations nationwide. The station provides students at Missouri's School of Journalism the opportunity to work at one of the top-rated public radio stations in the country.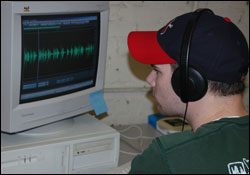 Kent Collins, chairman of the broadcast news department at MU, says the announcement was not unexpected.
"This good news is not surprising news," Collins says. "KBIA continues to be one of the hottest public radio stations in the country."
"A lot of the success you have to attribute to our staff; they work hard and really understand our listeners," said Mike Dunn, general manager of KBIA. "Hopefully students will look at this and say, 'Wow, that's a great place to learn.'"
Kyle Palmer, a senior broadcast major who has worked as a reporter and news anchor for the station, is proud of the ranking and his broadcast experience at KBIA.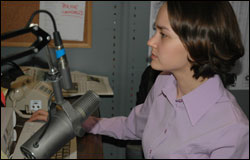 "It definitely helps to put on a resume that I worked at the NPR station that had the second-highest ratings of any public radio station in the country," Palmer says. "It makes my work seem worthwhile when I know that a substantial number of people are listening."
Station rankings are based on current Arbitron ratings, which are produced by calculating the actual number of listeners based on the population as a whole.
The KBIA newsroom is one of the professional media labs operated by the Missouri School of Journalism. It provides students hands-on opportunities and real-world work experience.
Updated: April 2, 2020
Related Stories
Expand All
Collapse All
---