Three Journalism School alumni honored as 2020 recipients of the Jefferson Club Golden Quill award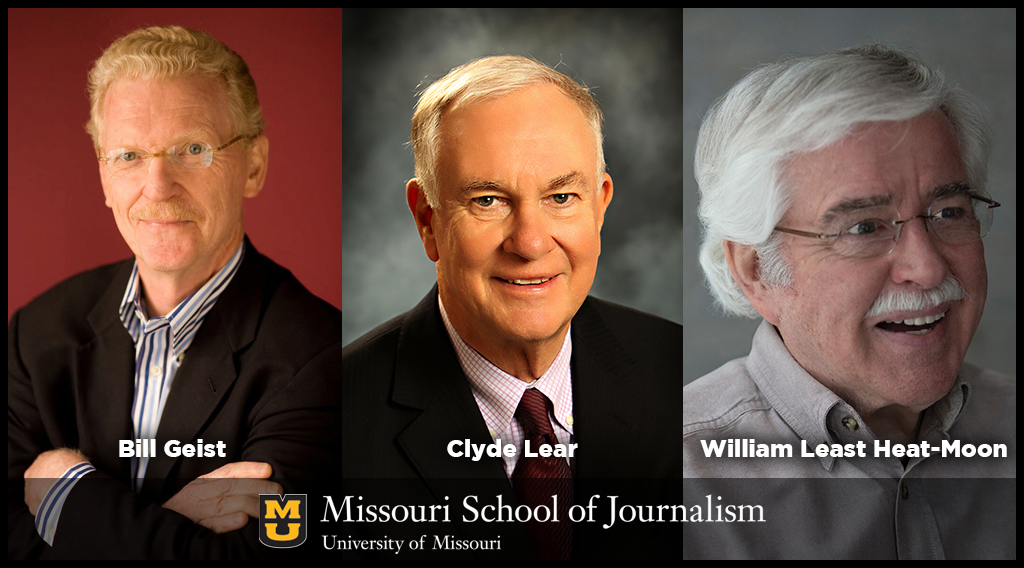 Columbia, Mo. (April 24, 2020) — Three Missouri School of Journalism alumni were among five honored as 2020 recipients of the Jefferson Club Golden Quill Alumni Excellence Award. Bill Geist, MA '71, Clyde Lear, MA '68, William Least Heat-Moon, BJ '78, will be recognized in person during a ceremony next year on April 24, 2021.
"This year's honorees reflect the incredible and diverse talent produced at the School of Journalism," said David Kurpius, dean of the Missouri School of Journalism. "Congratulations to all three on this honor. Their professionalism, engagement and many accomplishments have long inspired our students."
The Jefferson Club Golden Quill Alumni Excellence Award is given to alumni that have excelled in their chosen field and reflect the University's core values of respect, responsibility, discovery and excellence. Honorees are listed on the Jesse Hall Notable Alumni Wall, located in the south entrance of Jesse Hall,  and receive a replica of the quill held by Thomas Jefferson, as depicted by the bronze statue on Francis Quadrangle.
Bill Geist is a New York Times bestselling author and six-time Emmy Award-winning former correspondent and commentator for CBS News. He has contributed his humor, observations and storytelling to many CBS News broadcasts, including 60 Minutes II, Sunday Morning, The Evening News and 48 Hours, as well as various CBS Sports productions, including several Olympic Games, World Series and Super Bowls. Geist has contributed innumerable articles to a wide spectrum of magazines, ranging from Rolling Stone to Forbes, and Vogue to Esquire — as well as to Internet sites such as The Daily Beast.
Clyde Lear is the retired Chairman, CEO and founder of Learfield Communications, Inc, a collegiate sports marketing company, which began as an outgrowth of his master's project. It was there he laid out a model for creating a statewide network, a model that has worked for news, agriculture and sports.
William Least Heat-Moon (born William Trogdon) is a New York Times bestselling author and advocate for social and environmental justice. His first novel, Blue Highways, spent 42 weeks on The New York Times best seller list in 1982–83. It was also the winner of a Christopher Award in 1984. He has earned four other degrees from Mizzou including a BA '61, MA '62, PhD '73 and LHD '11.
The other two recipients of this year's award are Harry Cornell, BSBA '50, LLD '03, chairman emeritus of Leggett & Platt, Incorporated, a Fortune 500 company headquartered in Carthage, Missouri; and Claire McCaskill, BA '76, JD '77, former U.S. Senator, and current NBC News/MSNBC political analyst.
Updated: November 12, 2020
Related Stories
Expand All
Collapse All
---