Brooks Receives Career Achievement Award
Columbia, Mo. (Aug. 22, 2005) — Delta Sigma Phi Fraternity has honored Associate Dean Brian S. Brooks with its Career Achievement Award. The award goes to one alumnus of the national social fraternity each year and recognizes significant achievement in the recipient's chosen profession.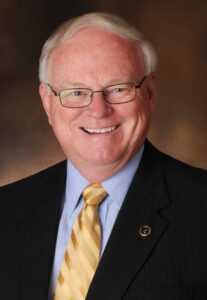 Brooks is the fourth journalist to receive the award. Others include the late Lee Hills, Missouri alumnus and former chief executive officer of Knight-Ridder Newspapers; Neal Shine, former publisher of the Detroit Free Press; and Michael Waller, former publisher of the Hartford Courant.
"I am humbled to be placed in such company," Brooks said. "And I am proud to be a member of a fraternity that has produced so many top journalists."
In his role as associate dean, Brooks has primary responsibility for administration of the school's undergraduate program. He also oversees the school's staff and facilities.
Brooks, a native of Tennessee, received bachelor's and master's degrees from Missouri. He served as a U.S. Army infantry officer in Germany and Vietnam, where he was awarded the Bronze Star. After leaving active duty, he joined the Memphis Press-Scimitar, where he worked as a reporter, copy editor, editorial writer and night city editor.
He joined the Missouri faculty in 1974 as news editor of the Columbia Missourian, the school's general-circulation daily newspaper, and served as editor from 1984 to 1987. He is the co-author of four leading journalism textbooks and has directed the school's technology initiatives since 1989.
Brooks served as project director of the school's seven-year research and development project with IBM Corp. from 1989 to 1996 and now is one of the leaders of the school's switch to the Apple platform. He recently was selected as an Apple Distinguished Educator, one of only about 500 selected for that honor nationwide. ADEs are chosen from educators ranging from kindergarten teachers to college professors.
While on sabbatical from Missouri from 1997 to 1999, Brooks served as editor of Stars and Stripes, the U.S. military newspaper based in Darmstadt, Germany.
The University of Missouri Alumni Association honored Brooks with its Faculty-Alumni Award in 2001. In 2003, he was named Missouri's Outstanding Faculty Member by the MU Greek system, and in 2004 he was recognized by Residential Life for his service to Missouri students.
Delta Sigma Phi previously honored Brooks with its Outstanding Undergraduate Award, the Harvey Hebert Award for Service, the Francis Wacker Interfraternity Award and the Mr. Delta Sig Award, the fraternity's highest. He is the only member of Delta Sigma Phi ever to have served as president of the North-American Interfraternity Conference, the umbrella organization for the 64 men's social fraternities. He also received the NIC's Gold Medal, that group's highest award.
Delta Sigma Phi has 105 chapters on college campuses nationwide.
Updated: April 7, 2020
Related Stories
Expand All
Collapse All
---