63 Walter Williams Scholars Begin Studies at the Missouri School of Journalism
The Group Includes AP Scholars, Bright Flight Scholars and National Merit Winners
By Caroline Murray
Columbia, Mo. (Sept. 19, 2014) — The Missouri School of Journalism welcomed 63 new Walter Williams Scholars into the program on Wednesday, Sept. 3, in Neff Hall. The scholars hail from 18 states across the country.
To be considered for the Walter Williams Scholars program, candidates must be incoming freshman with a score of 33 or higher on the ACT. The students are strong academic performers, with eight named AP Scholars, eight recognized by National Merit and all named Bright Flight Scholars.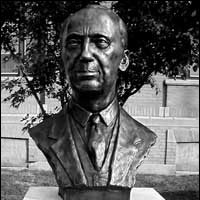 "These Walter Williams Scholars are among the future leaders in journalism and strategic communication," said Professor Emeritus Brian Brooks. "They will have plenty of opportunities to develop their talents and abilities at the Missouri School of Journalism."
The group has shown leadership in their respective high school journalism outlets, with 19 students serving as editors and producers.
The Scholars have displayed their leadership beyond their journalistic endeavors. They are recognized athletes in a variety of sports including football, basketball, swimming and tennis, and nine students were captains of their teams.
The students are active in the arts, with many musicians, thespians and dancers in the group. The group includes a drum major, a section leader and a ballet soloist, among other accomplished performers.
The Walter Williams Scholars Program, named for the School's founding dean, accepts the highest-achieving freshmen by invitation only. Once on campus, students are placed in a special Freshman Interest Group, receive a personal faculty mentor and a $1,000 scholarship to study abroad or in the School's programs in New York City and Washington, D.C., at any time before graduation.
Top row, from left: Brooke Auer, Yasmine Benchaabane, Caleb Bishop, Taylor Blatchford, Jacob Boeding, Erin Bormett, Samantha Brown, Bobby Ceresia, Jack Cogan. Second row: Clare Conlisk, Tyler Emery, Nora Faris, Natalie Fitts, Maddie Foster, Rachel Foster Gimbel, Alyssa Gregory, Eric Grumke, Marilyn Haigh. Third row: Andrew Hatfield, Jalyn Henderson, Emily Johnson, Landon Jones, Chris Joseph, Danielle Katz, Jared Kaufman, Lauren Langdon, Kevin Levine. Fourth row: Daniel Litwin, Mackenzie Lujin, Morgan Magid, Anna Maples, Morgan Mechelke, Lydia Meyer, Jack Miller, Mariah Monks, John Morrisroe. Fifth row: Olivia Paggiarino, Katie Parkinson, Allie Pecorin, Rachel Phillips, Tashan Reed, Kristen Reesor, Robert Richart, Anthony Romano, Dylan Ryan. Sixth row: Hannah Schmuck, Erin Schroeder, Katharine Sexton, Madeline Shaw, Maddie Stanze, Rylee Stoulil, Anna Sutterer, Rachel Szopa, Libbye Tellor. Seventh row: Emily Waters, Catherine Wendlandt, Craig White, Lauren Wrigley, Taylor Ysteboe, Jacob Zimmer. Not Pictured: Molly Dillinger, Nathaniel Gatter and Harry O'Connor.
---
Updated: July 30, 2020
Related Stories
Expand All
Collapse All
---