Andrew Gibson Named Outstanding Honors College Senior for the Missouri School of Journalism
The Inaugural Award Recognizes Grades, Service and Curiosity
By Caroline Murray
Columbia, Mo. (April 2, 2014) — Andrew Gibson has been named the Outstanding Honors College Senior for the Missouri School of Journalism.
Gibson is one of the 13 Honors College graduating seniors at the University of Missouri receiving this inaugural award, which recognizes the outstanding seniors in each of the colleges and schools on campus. Recipients were chosen based on five criteria: a strong GPA, excellence in the discipline, intellectual engagement, community participation and broad intellectual curiosity.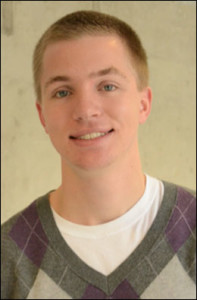 "Andrew has always been an earnest and hard-working student, but his most recent extra-curricular efforts show him to be an imaginative leader – at the forefront of the intersection between journalism and technology," said Associate Dean Lynda Kraxberger. "He is breaking new ground by providing insight into the ways that consumers want to get their news and information, while leading projects that rapidly test these theories in real-world applications."
Gibson, a convergence journalism student, is currently a Web analytics specialist at the Columbia Missourian and a digital graphics producer at KBIA-FM. Gibson also serves as president of ONA Mizzou. He will graduate summa cum laude in May.
Gibson said the faculty and the flexibility of the journalism program have been crucial to his success.
"There isn't an emphasis area that directly involves interactive graphics and Web analytics, but faculty members at both the Missourian, like Joy Mayer, and KBIA-FM, like Ryan Famuliner and Janet Saidi, have allowed me to do independent studies to develop those skills. I really appreciate that," Gibson said.
He also praised Assistant Professor Amy Simons and his other convergence journalism professors.
"I appreciate how practice-driven versus theory-driven the professors are," Gibson said.
Among Gibson's accolades are internships at news organizations like the Colorado Springs Gazette, the Orlando (Fla.) Sentinel and KCNC-TV in his hometown of Denver. Gibson helped cover the most destructive wildfire in Colorado history in 2012 with live tweets, live blogs, stories and photos. He considers this one of his proudest accomplishments.
Additionally, Gibson became the first social media reporter to be sent by the Missourian to cover a Tiger road football game when he reported on the 2013 SEC Championship. He went on to cover the Cotton Bowl game and its related festivities with Twitter, Instagram and Vine.
Gibson also interned at the Society for Worldwide Interbank Financial Telecommunication in Brussels, served as president of the Mizzou chapter of the Society of Professional Journalists, and volunteered as a STRIPES driver.
Gibson and the other Outstanding Honors College Seniors will be honored at Spring Awards Ceremony and Reception 4 p.m., on Friday, April 4, at Monsanto Auditorium in the Bond Life Sciences Center on the MU campus.
Updated: July 23, 2020
Related Stories
Expand All
Collapse All
---