63 Walter Williams Scholars Bring Impressive Academic Achievements to the School
By Nathan Allen
Master's Student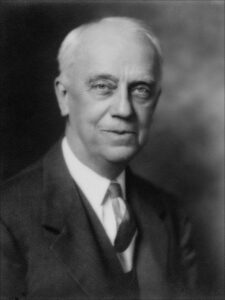 Columbia, Mo. (Sept. 27, 2010) — The Missouri School of Journalism recently welcomed a record-setting 63 Walter Williams Scholars at a ceremony held in Fisher Auditorium on the MU campus.
This year's group represents the highest-achieving incoming journalism students in a class of 972 declared journalism or pre-journalism majors. To be considered for the program, applicants must earn an ACT score of at least a 33 (1440 on the SAT). The program is named for Walter Williams, the School's founding dean, and every Walter Williams Scholar is assigned an individual faculty mentor.
The 2010 Walter Williams Scholars are from 18 states; almost half are either from Missouri (17) or Illinois (14).
"Missouri gets the students who are really committed to journalism, advertising and public relations," said Brian S. Brooks, associate dean for undergraduate studies. "These students are among the best incoming students in the country and rank in the top half of the top one percent of high school graduates nationwide."
Top row, from left: Celia Ampel, Evan Arnold, Amartya Bagchi, Morgan Barton, Ethan Baxter, Theresa Beno, Caroline Bishop, Aaron Braverman, Bryson Bruce, Danielle Carter, Tyler Castner, Dylan Chapman, Natalie Cheng, Bethany Christo, Sarah Clancey, Maximillian Conger. Second row: Cody Cutter, Michael Decrescenzo, Winn Duvall, Devon Fasbinder, Charles Field, Brandon Foster, Marie French, Jake Gordon, Emily Hauger, Kristen Herhold, Jimmy Hibsch, Sammie Hill, Allison Hinga, Emily Hinga, Mark Hodges, Nicole Jones. Third row: Luke Kamp, Kristine Kerns, Hank Koebler, Robert Langellier, Peter Legrand, Grace Lyden, Aaron Maassen, Kelsey Maffett, Kristian Mandahl, Jesse Markway, Zachary McGowon, Miranda Morgan, Jack O'Brien, Andrew Owens, Anna Petrow, Allison Pohle. Fourth row: Elliott Pollack, Mallory Proctor, Casey Purcella, Anthony Puricelli, Garrett Richie, Dawn Schillinger, Ben Scroggins, Kara Sharp, Jessica Smith, Jessica Smith, Katarine Sostaric, Caitlin Swieca, Erica Vandenhoulen, Jaime Williams, Amy Willsey.
---
This year's scholars hold an array of impressive academic achievements. These include:
Grace Lyden of Omaha scored a perfect 36 on the ACT.
A total of 13 are National Merit Commended Scholars.
One is a National Merit Semifinalist.
Five are National Merit Finalists.
Five are National Merit Scholars.
A few of the scholars received state press association awards for their high school journalism endeavors. The Scholastic Press Association of Chicago honored Caitlin Swieca with its Journalist of the Year award. The Journalism Education Association named Jimmy Hibsch of Arlington Heights, Ill., the Illinois High School Journalist of the Year. Tyler Castner of Liberty Township, Ohio, received an honorable mention for JEA's Ohio High School Journalist of the Year. The Michigan Interscholastic Press Association chose Devon Fasbinder of Clarkston, Mich., as the Best Anchor.
This year's scholars boast many other talents and accomplishments. Castner was the winner of the 2009 Yale Book Award. Natalie Cheng of Lisle, Ill., won this year's Christian Science Monitor's Young Poets Award. Bryson Bruce of Lee's Summit, Mo., was the lead in three out of four musicals at his school. Max Conger of Kansas City is a black belt in Jiu Jitsu (Japanese grappling art). Ben Scroggins of Allen, Texas, was the 2007 USA Gymnastics Junior Olympic Champion. Cody Cutter of Overland Park, Kan., was the 2009 Kansas State Mock Trial champion. A total of 24 Walter Williams Scholars earned varsity letters in various sports.
Approximately 250 Walter Williams Scholars currently are enrolled at the School. The students enjoy numerous benefits, including placement in a special Freshman Interest Group, a personal faculty mentor and a $1,000 scholarship that can be used to study abroad or in the School's New York or Washington programs at any time before graduation.
Updated: May 14, 2020
Related Stories
Expand All
Collapse All
---