School welcomes 88 high-achieving Walter Williams Scholars to campus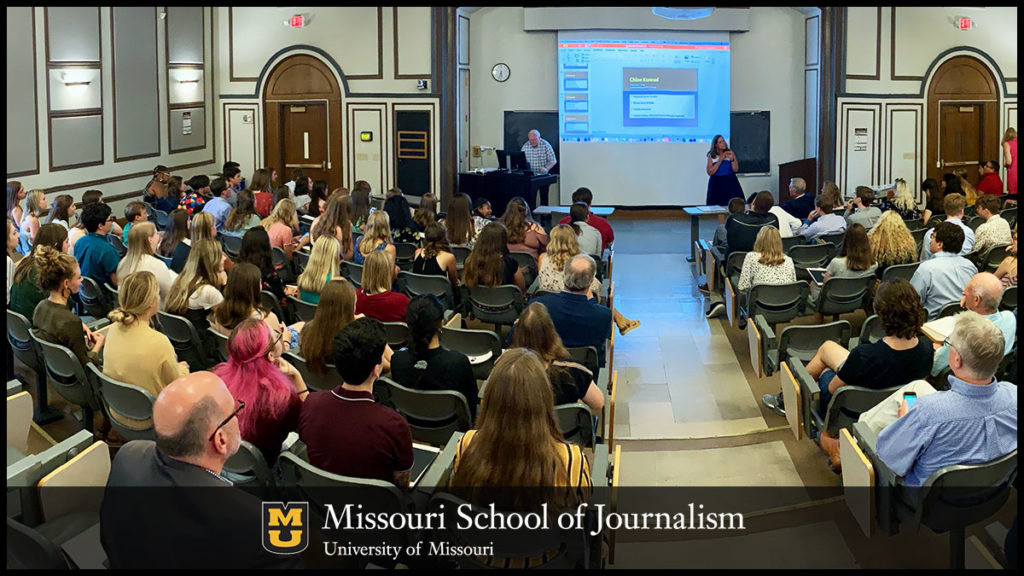 2019-20 freshmen class represents the largest ever accepted for the honor.
Columbia, Mo. (Aug. 22, 2019) — The Missouri School of Journalism welcomed a record 88 new Walter William Scholars on Wednesday, Aug. 21. During a short ceremony, scholars were recognized individually for their accomplishments in high school. Each student received a Walter Williams Scholars certificate and a centennial commemorative book from their faculty mentor. The talented students come from 18 states.
Now in its 16th year, the Walter Williams Scholars program is the highest level of distinction in the Missouri School of Journalism. It is named for the School's founding dean, and accepts the highest-achieving freshmen by invitation only.
"We are excited to have a stellar group of Walter Williams Scholars, and we are particularly excited to have more of them this year than ever before," said Brian Brooks, associate dean emeritus and Walter Williams Scholars program faculty lead. "They represent the future of American journalism, and we are thrilled to welcome them to Mizzou and the School of Journalism."
To qualify as a Walter Williams Scholar, students must have been in the top 20 percent of their high school class, have maintained a GPA of 3.25 or above and have earned at least a 33 on the ACT or 1480 on the SAT.
These scholars are directly admitted into the journalism school their freshman year and assigned faculty mentors. The mentors serve as resources for the scholars, providing guidance and advice. Other benefits for each scholar include a $1,000 scholarship to study abroad or in the School's programs in New York City and Washington, D.C., at any time before graduation, and automatic admission to the one-year BJ/MA program, which allows students to complete their graduate degrees in one year rather than two.
The Fall 2019 class of Walter Williams Scholars is:
Cole Banker, St Louis, Mo.
Mallory Becker, Boerne, Texas
Lilly Beckwith, Overland Park, Kan.
Maya Bell, Columbia, Mo.
Chris Blake, Vienna, Va.
Abigail Blasingame, Richardson, Texas
Maia Bond, St. James, Mo.
Emma Boyle, St. Louis, Mo.
Nate Brenner, Westlake Village, Calif.
Cara Brown, Brookline, Mo.
Mae Bruce, Leander, Texas
Anna Buturla, Katy, Texas
A.J. Cassapo, Sugar Land, Texas
Annabelle Cook, Fairway, Kan.
Josephine Crouch, Fayetteville, Ark.
Sophia Cummings, Arlington, Va.
Brenna Donnelly, Wichita, Kan.
Lucas Dorrell, Kansas City, Mo.
Molly Dowe, Austin, Texas
Angelina Edwards, Kansas City, Mo.
Treh Ellebracht, Blue Springs, Mo.
Kristina Essig, Dallas, Texas
Dani Fischer, Chesterfield, Mo.
Brandon Ford, Lebanon, Mo.
Kate Freitag, Washington, Mo.
Amanda Gilchrist, San Diego, Calif.
Jack Graham, Lees Summit, Mo.
Olivia Haffner, Winfield, Ill.
Andreanna Haritopoulos, Channahon, Ill.
Rachel Henderson, Roswell, Ga.
Gracy Henley, California, Mo.
Emily Hickey, St. Louyis, Mo.
Aubrey Hildebrand, Wamego, Kan.
Eli Hoff, Maple Grove, Minn.
Jamie Holcomb, Terrace Park, Ohio
Ella Ilg, Skokie, Ill.
Halle Jackson, St. Louis, Mo.
Isabella Janney, Colorado Springs, Colo.
Bryce Johnsen, Gladstone, Mo.
Anna Kochman, Lee's Summit, Mo.
Colby Koenig, Weldon Spring, Mo.
Julie Koharik, Belleville, Ill.
Chloe Konrad, Glenview, Ill.
Isabella Kostolni, Waukesha, Wis.
Blake Krah, O'Fallon, Mo.
Jacob LaGesse, St. Louis, Mo.
Jackie Lamb, St. Paul, Minn.
Olivia Lehnert, Tinley Park, Ill.
Elizabeth Lumley, Springfield, Mo.
Avery Maslowsky, Berwyn, Pa.
Joy Mazur, Batavia, Ill.
Maya McClain, Bettendorf, Iowa
Jack McGrath, Wheaton, Ill.
Madison McMillen, Overland Park, Kan.
Kate Michael, Fishers, Ind.
Cela Migan, Milwaukee, Wis.
Joe Miller, Lakeland, Tenn.
Aaron Moser, Arlington, Tenn.
Elise Mulligan, Naperville, Ill.
Gracie Noble, Hamel, Minn.
Bennett Oelkers, Byron, Minn.
Lucas Owens, Saratoga, Calif.
Sarah Petrowich, Carbondale, Ill.
Benjamin Pfeifer, Studio City, Calif.
Sydney Poppe, Lee's Summit, Mo.
Kendal Presley, Imperial, Mo.
Joshua Reneau, Liberty Lake, Wash.
Danny Ryerson, Arlington Heights, Ill.
Nate Sanchez, Plano, Texas
Annasofia Scheve, Loveland, Ohio
Taylor Schmitt, La Grange, Ill.
Cole Schnell, St. Louis, Mo.
Maddie Schuck, Braceville, Ill.
Luke Severt, Troy, Ohio
Audrey Stanard, Wildwood, Mo.
David Tallant, Plano, Texas
Delaney Tarpley, Liberty, Mo.
Savanna Trivers, Oak Grove, Mo.
Emma Vernon, St. Charles, Mo.
Addie Von Drehle, Mission Hills, Kan.
Cara Wagner, Cincinnati, Ohio
Abby Walton, Little Rock, Ark.
Evan West, Carlsbad, Calif.
Lily Williams, Le Claire, Iowa
Kate Wyman, Dexter, Mo.
Galen Zavala Sherby, Louisville, Ky.
Sophie Zell, Keller, Texas
Moy Zhong, Columbia, Mo.
Updated: November 10, 2020
Related Stories
Expand All
Collapse All
---