Missouri Journalism Faculty Welcomes New Walter Williams Scholars
Columbia, Mo. (Sept. 17, 2007) — The Missouri School of Journalism welcomed 40 new Walter Williams Scholars at a ceremony Aug. 30, bringing the total number of students enjoying the benefits of the elite program to 155.
The incoming freshman met their individual faculty mentors, one of several benefits of the program, and received a copy of A Creed for My Profession: Walter Williams, Journalist to the World, written by Ronald T. Farrar, PhD '65. As each student walked to the front of Fisher Auditorium to accept the book, their accomplishments – an impressive collection of the nation's top high school honors – showed on a projector screen.
Top row, from left: Sarah Alban, Cassandra Batchelder, Amy Brachmann, Kelly Brdicka, J.T. Burns, Evan Bush, Sarah Callahan, Lindsay Cochrum. Second row: Emily Coleman, Elise Crawley, Peter Dubrowski, Eric Dundon, Katie Eberle, Gina Eygenhuysen, Michelle Flandreau, Luke Freeman. Third row: Annie Greenberg, Matt Hatfield, Lauren Hughes, Esten Hurtle, Lauren Hystead, Erin Junkel, Theo Keith, Mark Levitt. Fourth row: Laura Li, Elizabeth McIntyre, Kelsey Mirando, Melanie Morgan, Andrew Orozco, Andrew Patchell, Molly Paskal, Tracy Pfeiffer. Fifth row: Megan Pieper, Emily Ponder, Peter Rolands, Paul Rolfe, Kyle Rood, Rebecca Smith, Kyle Stokes, Briehn Trumbauer.
---
"They're the best and the brightest in the country," said Brian Brooks, associate dean of undergraduate studies and administration. "They've just been stellar for the most part. We pay a lot of attention to them."
"I'm very proud of this program," he added. "We've quadrupled the number of high-ability students who have come to this school."
The majority of new students this semester hail from the Midwest, with a handful of others coming from as far away as Texas and Florida. Their high school alma maters range from small rural institutions to sprawling campuses with more than 1,000 students.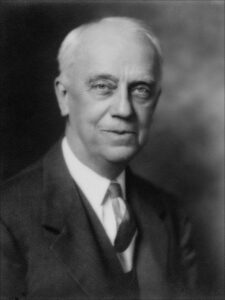 Named after the School's founding dean, a Missouri newspaper publisher who went on to become president of the University of Missouri, the program provides students with a faculty mentor, a $1,000 scholarship to study abroad or in the School's New York or Washington programs, and the option to be in a Freshman Interest Group (FIG), where they share classes and dorm life with fellow scholars.
Requirements for admission include a score of 33 or higher on the ACT (1440 or higher on the SAT). According to data from the fall of 2006, undergraduates in the School of Journalism scored an average of 27.7 on the ACT. Campus wide, undergraduates scored an average of 25.1.
The program, launched in the fall of 2004, already has graduated two students. Its current members include a multitude of National Merit Scholars, Advanced Placement Scholars and Bright Flight Scholars. Collectively, the 40 incoming students have more than 140 scholarships.
In this semester alone, the Walter Williams Scholars program brought in nine of the University of Missouri-Columbia's 30 Discovery Fellows, an MU Honors College designation. Each will have an opportunity to work with a faculty member on a research project or other scholarly activity during their freshman year.
One of the first students to enter the program, Erika Thomas, of West Lafayette, Ind., is now a senior in the radio-television journalism emphasis area and works as a reporter and anchor for KOMU-TV. She said that in the next year she hopes to start full time as an anchor and reporter for a medium-sized station somewhere in the United States.
"This experience is what will make me better, and I want to utilize that as much as possible," she said about her time at the School as a Walter Williams Scholar. "I am ready to get to a station and work full time because I know what it will be like."
Incoming freshman Amy Brachmann of Crystal Lake, Ill., is taking 14 hours her first semester, plus two hours of music classes. She turned down admission from Northwestern, Loyola, Drake and Marquette to attend the Missouri School of Journalism. Her favorite part of college so far, she said, has been her experience in a Freshman Interest Group (FIG), in which she shares dorm life and three journalism classes with other Walter Williams Scholars.
"It's great because we have similarities, journalism obviously, and we share the same work ethic," she said. "We get along really well. I think it's a great program."
Freshman Eric Dundon, one of only 11 incoming scholars from Missouri, said he's already decided to study in the convergence journalism emphasis area, an emerging field that combines multiple journalism disciplines. "It's the way of the future, and that's where the job market is going," he said.
Like Brachmann, Dundon said his FIG was a great help in acclimatizing him to university life, academically and socially. "It was a really great way to make friends. It made a big university seem a lot smaller," he said.
For more information about the Walter Williams Scholars program, contact Brian Brooks.
Updated: April 20, 2020
Related Stories
Expand All
Collapse All
---