Missouri School of Journalism welcomes 80 high-achieving Walter Williams Scholars to campus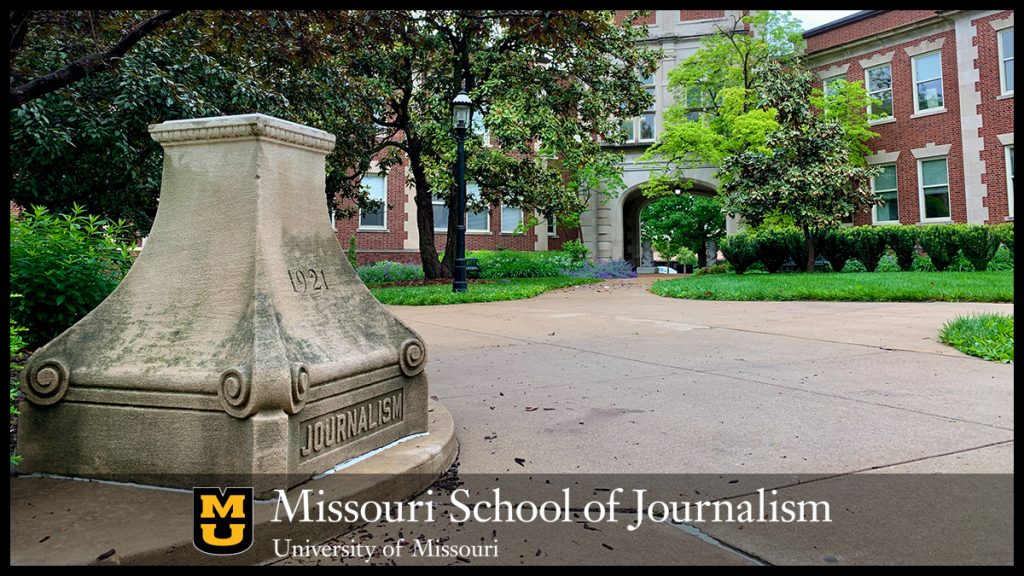 The Walter Williams Scholars program represents the highest level of student distinction in the J-School
Columbia, Mo. (Sept. 7, 2021) — The Missouri School of Journalism welcomed 80 exceptional students this fall as they begin their studies in journalism and strategic communication as Walter Williams Scholars. The talented students come from 20 states.
Now in its 18th year, the Walter Williams Scholars program is the highest level of student distinction in the Missouri School of Journalism. It is named for the School's founding dean and accepts the highest-achieving freshmen by invitation only.
"We're delighted to welcome these high-achieving students," said Brian Brooks, associate dean emeritus and Walter Williams Scholars program faculty lead. "It is a diverse group with students as far away as Alaska, Florida, Connecticut and California."
To qualify as a Walter Williams Scholar, students must have been in the top 20 percent of their high school class, have maintained a GPA of 3.25 or above and have earned exceptional scores on the ACT or SAT.
These scholars are directly admitted into the journalism school their freshman year and assigned faculty mentors. The mentors serve as resources for the scholars, providing guidance and advice. Other benefits for each scholar include an academic scholarship of varying amounts and a $1,000 scholarship to study abroad or in the School's programs in New York City and Washington, D.C., at any time before graduation. They also gain  automatic admission to the one-year BJ/MA program, which allows students to complete their graduate degrees in one calendar year rather than two.
The Fall 2021 class of Walter Williams Scholars is:
Maya Anand, Ballwin, Mo.
Cam Bauman, Colorado Springs, Colo.
Emma Boland, Lucas, Texas
Madelyn Bonkoski, Carpentersville, Ill.
Mikaela Bowles, Jefferson City, Mo.
Emily Boyett, Du Quoin, Ill.
Graham Braunstein, Waco, Texas.
Gordon Brode, Memphis, Tenn.
Grace Burwell, Potomac, Md.
Beth Carlson, Naperville, Ill.
Caleigh Christy, Madison, Wis.
Ever Cole, Springfield, Mo.
Anna Colletto, Loveland, Ohio
Max Dike, La Grange, Ill.
Emily Dopp, Elk River, Minn.
Sophia Douglas, Collierville, Tenn.
Christian Dutcher, Frisco, Texas.
Brynn Eide, Rogers, Ark.
Sam Ennis, Austin, Texas
Joe Feduccia, Nolensville, Tenn.
Ella Fixsen, Olathe, Kan.
Sarah Gassel, Wilton, Conn.
Addi Gish, Columbia, Mo.
Noah Grimsley, Dallas, Texas.
Olivia Gyapong, Silver Spring, Md.
Seth Hadlow, St. Louis, Mo.
Adeleine Halsey, Evansville, Ind.
Owen Halstead, O'Fallon, Mo.
Lilyann Hames, Dallas, Texas.
Siobhan Harms, Encino, Calif.
Gracie Hedenberg, St. Louis, Mo.
Mikayla Higgins, Memphis, Tenn.
Ryleigh Hindle, House Springs, Mo.
Zoe Homan, North Barrington, Ill.
Teddy Hubbuch, Fulton, Mo.
Gigi Huber, Rolla, Mo.
Emily Jones, Little Rock, Ark.
Abigail Klapatauskas, Dubuque, Iowa.
Cole Lemasters, Kansas City, Mo.
Ryan Lezak, Northbrook, Ill.
Jacob Loggins, Marietta, Ga.
Ella McDevitt, Palos Park, Ill.
Olivia Mizelle, Verona, Wis.
Cara Penquite, West Lafayette, Ind.
Ashlynn Perez, St. Peters, Mo.
Payton Perkins, Fort Collins, Colo.
Abby Piontek, Wildwood, Mo.
Grace Radke, Overland Park, Mo.
Brandon Raimo, San Diego, Calif.
Charlotte Raley, Overland Park, Kan.
Cassidy Reaka, Edwardsville, Ill.
Jacob Richey, Paradise, Texas.
Bailey Rizzo, Mansfield, Texas
Jared Rubenstein, Alpharetta, Ga.
Emily Rutledge, Alexander, Ark.
Yasmeen Saadi, Leawood, Kan.
Anna Sago, Kingsport, Tenn.
Rachel Sarff, Leawood, Kan.
Caroline Schultz, Urbandale, Iowa.
Lorraina Scolaro, Redondo Beach, Calif.
Victoria Shore, Marion, Ill.
Savvy Sleevar, Bloomington, Ill.
William Sloan, Mundelein, Ill.
Lexi Stacy, Park Ridge, Ill.
Lexi Sterling, Farmington, Ark.
Danika Stilwell, Fenton, Mo.
Mary Ruth Taylor, Little Rock, Ark.
Abby Throndson, Cedar Rapids, Iowa.
Maggie Turner, Tulsa, Okla.
Sydney Turner, Jackson, Mo.
Clara Unger, Anchorage, Alaska
Kevin Utz, Plano, Texas
Egan Ward, Orlando, Fla.
Maddie Weekley, Grosse Pointe, Mich.
Austin Williams, Imperial, Mo.
Lydia Williams, Memphis, Tenn.
Elana Wilson, Chicago, Ill.
Emily Wilson, Blue Springs, Mo.
Fiona Wilton, St. Louis, Mo.
Gia Woodfolk, Keswick, Va.
Updated: September 7, 2021
Related Stories
Expand All
Collapse All
---