Dubrowski to Intern in the White House Internship Program for Spring 2010
The Strategic Communication Junior to Work in Vice President Joe Biden's Office
By Joan Niesen
Master's Student
Missouri School of Journalism
Columbia, Mo. (Nov. 30, 2009) — Peter Dubrowski, a strategic communication junior at the Missouri School of Journalism, has been hired as an intern in the White House Internship Program for the spring of 2010.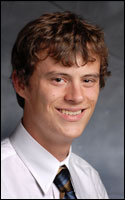 After applying to the program on a whim in September, Dubrowski was notified that he received the position recently with a phone call. When he saw an unlisted number calling his phone while in class, Dubrowski said, he knew it was either a spam call or something related to the job. He excused himself from Professor Kevin Wise's class to accept a position in Vice President Joe Biden's office.
"Right now I'm still sort of reeling over the fact that I got it," Dubrowski said.
Dubrowski, a Walter Williams Scholar who is focusing on strategic communication, is double majoring in journalism and political science. After spending last spring in Brussels working for the U.S. Mission to the European Union, Dubrowski recognized that his interests are focused mostly on public policy. The Walter Williams Scholars program recognizes the highest-achieving incoming journalism students at Missouri. To be considered for the program, applicants must earn an ACT score of at least a 33 (1470 on the SAT).
"The opportunity to see the U.S. government functioning at its highest level is something that very few people get to see, and I expect to come away from it with a much deeper appreciation of the amount of effort that goes into setting the broadest pen strokes of U.S. policy," he said.
Dubrowski says that he's looking forward to being in the vice president's office because there are only 150 employees and 12 interns; thus, there will be a better opportunity for him to become a part of Biden's team. His duties as the communications intern will include assisting the public relations staff, working at news conferences, speechwriting and drafting press releases.
"I can't imagine anyone I would rather have represent the School of Journalism in the office of the vice president," Brian Brooks said. "He'll do a great job."
His background in strategic communication and journalism will undoubtedly aid Dubrowski in his position, and he acknowledges the fact that he would never have applied for or gotten the position without the help of the Missouri School of Journalism.
"Strategic communication has been brilliant because it's taught me how to think," Dubrowski said. "It's taught me how to view the world strategically and how to persuade. The skills are a toolbox, and you can take this degree and be successful anywhere. I'm sure of that."
Updated: May 6, 2020
Related Stories
Expand All
Collapse All
---