11 Graduate Students Receive $3,000 White House Correspondents' Association Scholarships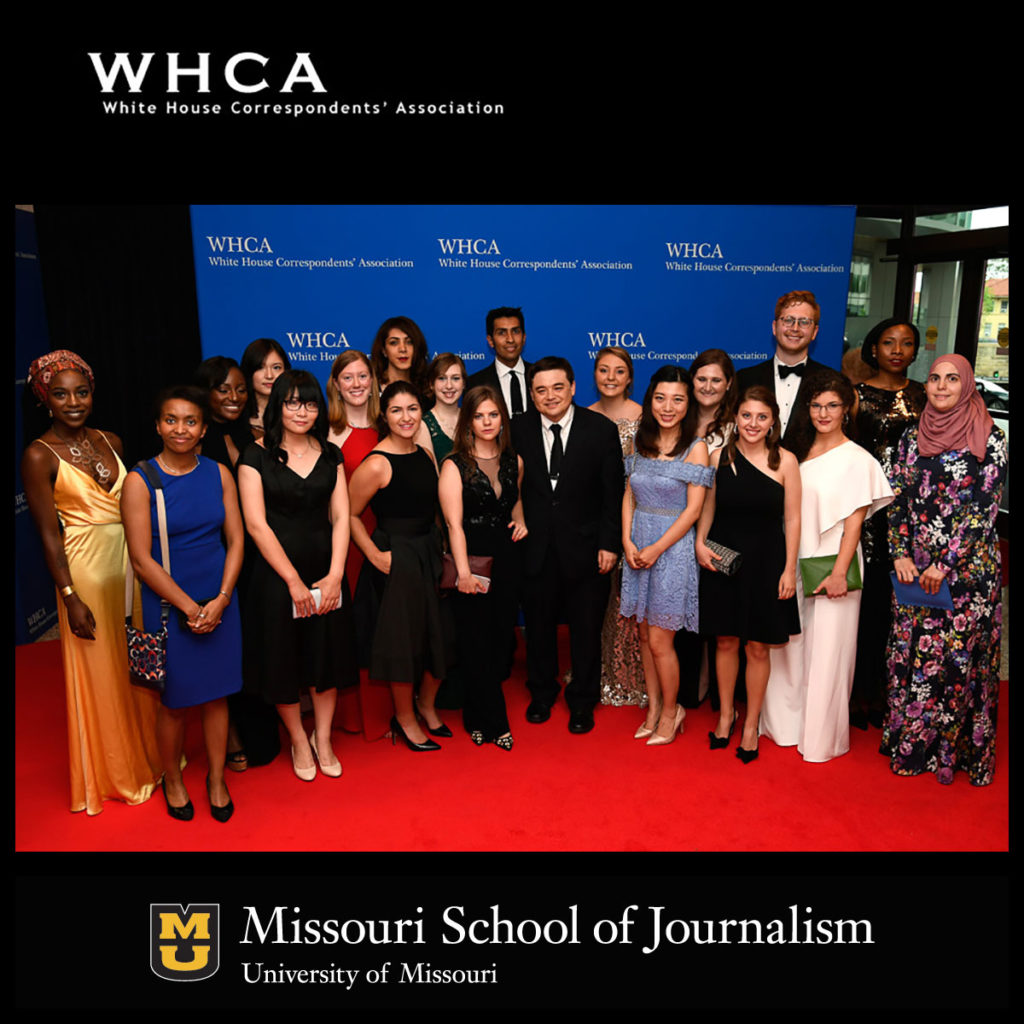 White House Correspondents' Association scholarship winners pose for a photo during the annual dinner on April 29. Missouri recipients are: front row: Jinghong Chen (third from left), Kasia Kovacs, Kouichi Shirayanagi, Xuejiao Wang, Molly Olmstead and Brittany Crocker (fifth through ninth from left). Back row: Francisco Vara-Orta (center), Jill Olmstead and Adam Aton (third and second from right).
The Group Was Honored by Top Journalists and Other Dignitaries at the Organization's Annual Dinner
Washington (June 5, 2017) — Eleven Missouri School of Journalism graduate students, selected as White House Correspondents' Association scholarship recipients, received a $3,000 grant to study in Washington, D.C., during the 2016-17 academic year.
They and the 13 other recipients were honored guests at the annual dinner on April 29. The scholarships enabled the students to attend the School of Journalism's Washington program for a full semester, where they worked for news organizations and attended seminars with movers and shakers in the nation's capital. Professor Barbara Cochran, the Curtis B. Hurley Chair in Public Affairs Journalism, directs the School's Washington program.
"We are thrilled to recognize these outstanding scholarship winners, who represent the future of our profession and illustrate the importance of fighting for First Amendment freedoms," said Jeff Mason, WHCA president and White House Correspondent for Reuters. "We look forward to celebrating them at the White House Correspondents' Dinner and watching them as they progress in their careers."
The event's program included reporters Bob Woodward and Carl Bernstein, the duo responsible for the Watergate investigation reporting of the Nixon administration. They spoke about the importance of a free press and journalism's pursuit of truth in these times. Noted Woodward, "The indispensable centrality of fact-based reporting is careful, scrupulous listening and an open mind."
Following Woodward and Bernstein's remarks, comedian Hasan Minhaj of "The Daily Show" delivered a stream of media-related jokes that struck a chord with reporters and others present.
The Missouri scholarship recipients and information about their internships are as follows.
Updated: October 22, 2020
Related Stories
Expand All
Collapse All
---