Journalism Senior Assists Vice President Joe Biden as White House Intern during Spring Semester
Peter Dubrowski Was the Only MU Student Selected for the Highly Competitive Program
By Brian Jarvis
Master's Student
Columbia, Mo. (June 14, 2010) — Missouri School of Journalism senior Peter Dubrowski helped Vice President Joe Biden plan a trip to the Middle East, among other duties, while participating in the White House Internship Program during the spring 2010 semester.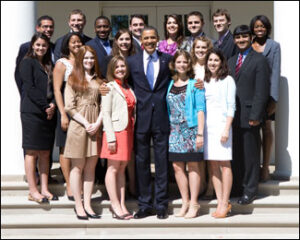 As a press intern for Biden, Dubrowski wrote briefings and media advisories, planned events, researched issues and fielded calls from reporters, in which work shifts often went beyond the traditional 8 a.m. to 6 p.m.
"It really was a transformational experience. I wouldn't trade it for anything," Dubrowski said. "But you were there to work, and people worked you incredibly hard."
The highly competitive White House Internship Program is designed to mentor and cultivate young leaders, strengthen their understanding of the Executive Office and prepare them for future public service opportunities. The hands-on program helps the interns gain valuable professional experience and build leadership skills.
Dubrowski was the only University of Missouri student selected to participate in the internship program.
For Dubrowski, highlights included planning Biden's trip to the Middle East in March to meet with key leaders in the region, as well as having a front-row seat to the debate and passage of health reform legislation.
"It gives a new perspective when you're in the middle of the noise," Dubrowski said. "The day before the bill passed, I was going for a run around the Capitol and passed an endless array of protesters and anti-protesters. It reminds you of what it means to live in a democracy."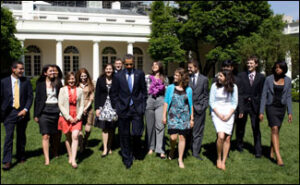 As part of the White House service project partnering with nine public schools in Washington, D.C., Dubrowksi regularly mentored and tutored students at Thurgood Marshall Academy. The school helps approximately 400 students in grades 9 through 12 learn how to succeed in college and actively engage in our democratic society.
"The human aspect of getting interns out of the office and into D.C. is really important. Walls can be incredibly high and don't let in light from the outside," Dubrowski said. "To get out to the real world and see a bigger picture than the Beltway was a great addition."
Dubrowski also was selected as one of a handful of service project leaders, earning him the opportunity to meet none other than President Barack Obama for an informal gathering in the Rose Garden.
"We were standing there waiting, and the president came out and said, 'So they told me you're the overachievers.' We all laughed awkwardly, not sure if we were allowed to laugh around the president," Dubrowski recalled. "It was a very human moment."
Though his future plans are undecided, Dubrowski, a Walter Williams Scholar whose area of study is strategic communication, plans to take the Law School Admission Test. He thinks he will likely find his way back to D.C. Dubrowski credits the Journalism School and the University of Missouri with providing the necessary lifeskills to succeed.
"I want to be involved in public service and contribute to the nation as a whole. I know I'll get there. I just don't know how," he said.
Updated: May 12, 2020
Related Stories
Expand All
Collapse All
---