12 Missouri Journalism Students Spend Semester Working, Learning in Washington, D.C.
Columbia, Mo. (Oct. 12, 2007) — Now nearly 40 years old, the Missouri School of Journalism's Washington Program continues to bring students into the halls of power for hands-on training in journalism and strategic communication in the nation's capital.
This semester, 12 undergraduate and graduate journalism students are working with and learning from political reporters, foreign correspondents and strategic communicators in Washington, D.C. Participants work 30 hours a week at a designated professional project site and attend Friday seminars with capital insiders, such as legislative specialists, lobbyists and bureau chiefs. The students also complete an end-of-semester research paper.
"As the media have changed, so has the Washington Program," said Wes Pippert, associate professor of journalism studies and director of the Washington Program. "We have placed students in as varied professional projects as computer-assisted reporting, magazines, strategic communication firms and television networks, as well as our traditional newspapers. Beyond that, we have a fine stable of seminar speakers drawn from the media, government and the private sector."
Participating in the Washington Program this semester are: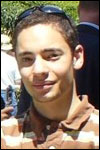 Michael Chesney
ABC News, Washington Bureau Political Unit
Chesney, a senior radio-television journalism and political science double major from the Philadelphia area, is a Walter Williams Scholar and Discovery Fellow. At MU, Chesney works as a reporter, producer and anchor at KOMU, the only University-owned network affiliate in the United States serving as a hands-on laboratory for journalism students. While in Washington, Chesney is continuing his work for KOMU by providing analysis of the 2008 presidential campaign during a weekly segment titled Presidential Picture: Race for the White House. Previously, Chesney has interned with CNN International in London; WHYY-TV in Wilmington, Del.; and KMIZ in Columbia. Outside of journalism, he is the founder and artistic director emeritus of the University's first official a cappella group, Mizzou Forte.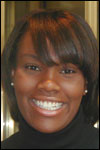 Cajsa Collin
Washington Times
Collin, a Missouri Journalism exchange student from the University of Westminster, London, is originally from Stockholm, Sweden. During her first semester as an exchange student, Collin learned about the Washington Program and requested permission from her home institution to stay in the United States for an extra semester. "I haven't regretted a minute of it," Collin said. "I work at The Washington Times foreign desk and love every second. There is never a dull moment in D.C."
Tarrah Cooper
Congressional Black Caucus Foundation Inc. and United States Department of Commerce
Cooper, a senior radio-television journalism major, has served as a reporter for KOMU as well as KBIA, one of the most successful NPR affiliates in the country. Cooper chose to complete her project with the Congressional Black Caucus Foundation after a recent visit to Monrovia, Liberia, sparked her interest in politics. Through the Foundation, Cooper works with the Minority Business Development Agency, a branch of the U.S. Department of Commerce. Cooper said she looks forward to learning how federal policies and legislation affect minority communities throughout America. She has interned previously at MTV Networks in New York City.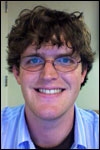 Kevin Crowe
Scripps Howard News Service
Crowe is in the final semester of his master's degree program and is doing computer-assisted reporting for the national projects team at Scripps Howard News Service. Crowe's varied personal and professional experiences include teaching in Ecuador and working in a sno cone factory.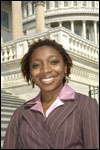 Jamille Fields
Office of Senator Barack Obama,
Congressional Black Caucus
Fields is a senior magazine journalism major from St. Louis. She has received numerous scholarships, including the Journalism Development Scholarship and the Newhouse Foundation Scholarship, which is awarded by the National Association of Black Journalists. Fields has interned previously in communications for Missouri Secretary of State Robin Carnahan and in public relations for the Catholic Charities of St. Louis. In addition, she has written for Vox, a student-staffed weekly arts and culture magazine affiliated with the School.
Justin Heinz
Independent Research Project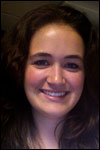 Allison Hull
Stars and Stripes, Central Bureau
Hull is a senior journalism major with a minor in political science. This semester, she is working in the central bureau of Stars and Stripes, a newspaper distributed to U.S. military service members and their families at duty stations around the world. Calling herself a "military brat," she said she has no real hometown, but her family currently lives in the Washington, D.C., area. In the fall of 2006, Hull reported on higher education for the Columbia Missourian, the School's faculty-run, student-staffed morning daily. She also served as the Missourian's dayside copy editor during the summer of 2007.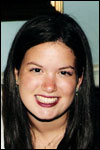 Rachel Kaufman
Washington Times Foreign Desk
Kaufman is a senior newspaper journalism and political science double major. A native of Houston, she plans to graduate in May. She has worked as both a reporter and an editor for the Missourian.
Tina Marie Macias
Los Angeles Times Washington Bureau
Born in West Texas and raised in the suburbs of Houston, Macias will complete her newspaper journalism degree in May. She spent her summer chasing human-interest pieces at the Houston Chronicle. Before that, she interned at a Houston community newspaper and wrote for publications at both the Missouri School of Journalism and the University of Houston, which she attended before transferring to MU. At UH, she earned a journalism scholarship from the Houston Chronicle, was named news reporter of the year and received a scholarship for her service to the school newspaper.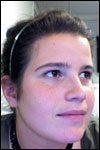 Vanja Petrovic
Orange County Register
Petrovic, a senior newspaper journalism major, has worked primarily as a reporter but also has served as a copy editor. She fell in love with the news about two years ago and, since then, has spent more than a year at the Missourian and three months at an alternative online magazine called AlterNet.org.
Taban Salem
National Geographic Traveler
Nailah Ife' Sims
ABC Washington Bureau, NewsOne (ABC Affiliate News Service)
Sims is a senior radio-television journalism major from Chicago. This summer, she interned for High Noon Entertainment in Denver, working on a new HGTV show, Carter Can. She also had the opportunity to do radio and convergence student projects during the National Association of Black Journalists 2007 Convention in Las Vegas. She completed her first internship last summer at CBS-2 in Chicago. Journalism has been one of Sims' passions since her senior year of high school, when she won a National Academy of Television Arts and Sciences Silver Circle Scholarship.
Updated: April 21, 2020
Related Stories
Expand All
Collapse All
---