Six Master's Students Attend Annual White House Correspondents' Association Dinner
The Experience Includes Personal Congratulations from the President and First Lady
Columbia, Mo. (May 18, 2012) — Six Missouri School of Journalism students had tickets to one of the hottest events in Washington – the annual White House Correspondents' Association dinner. Headlined by comedian and talk show host Jimmy Kimmel, the event was attended by the President and First Lady as well as many other senior government officials and members of the press corps.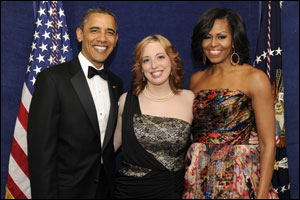 C-SPAN covered the celebrity arrivals, the award presentations, scholarships and the after-dinner speeches. MSNBC carried the dinner. Proceeds from the dinner go toward scholarships and awards aimed at supporting aspiring journalists and recognizing excellence in the profession.
The lucky few from Missouri were the recipients of $2,500 WHCA scholarships that came with invites to the gala affair and passes to a VIP reception beforehand. This year $132,200 was given to 16 students.
President Obama joked with Ryann Grochowski, MA '11, that the Tiger's loss in the first round of the NCAA tournament "busted his bracket," she said. "Then he and Mrs. Obama said that they were proud of me and to keep up the good work. It was a pretty surreal moment."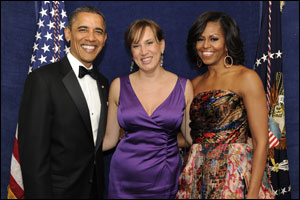 Those selected for the dinner had participated in the school's Washington Program under the guidance of renowned UPI reporter Wes Pippert during the 2011 to 2012 academic year. The $2,500 triggered a full waiver of tuition and other costs as the students completed their professional projects, capstone work that combines hands-on experience and a research paper.
The individuals and their placements were as follows: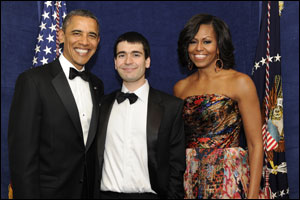 The Washington Program is for graduate and undergraduate students at the Missouri School of Journalism. Generally about 20-25 students participate during the fall and spring semesters each year. Roughly one-third are international students who come from nearly every continent. The program's office is located in the National Press Club building. Since its inception in 1968, more than 400 Missouri students have participated in the program.
The White House Correspondents' Association promotes the interests of reporters and correspondents assigned to cover the White House, helping them meet the demands of a 24/7 news cycle. The organization also mentors future generations of journalists, primarily through scholarships made possible by proceeds from the annual dinner.
Updated: June 9, 2020
Related Stories
Expand All
Collapse All
---