Ten Graduate Students to Be Selected for Prestigious WHCA-Missouri Fellowship in Government Affairs Reporting
Washington, D.C. (April 24, 2008) — The White House Correspondents' Association will announce at its annual dinner on Saturday, April 26, a new WHCA-Missouri Fellowship Program in government affairs reporting.
The Missouri School of Journalism, considered by the WHCA as one of the nation's most prestigious journalism graduate programs, was one of three schools selected by the WHCA for their innovative new scholarships at the graduate level. The funding made available represents a quintupling of the organization's scholarship program.
Ann Compton of ABC News, president of the WHCA, says, "These dramatic increases are possible because of the sustained support that member news organizations have given to the annual dinner. Journalists and their media companies have been incredibly generous for the evening, which toasts the President of the United States and hosts 2,700 guests."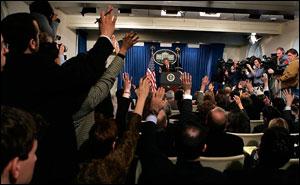 A total of 10 graduate students will be selected for the 2008-2009 academic year to receive a $2,500 WHCA-Missouri fellowship while participating in the School's semester-long Washington Program. The fellowship will waive full tuition costs (both resident and non-resident) and applicable on-campus fees for each student, in effect matching the WHCA grant by as much as $91,460.
"This generous grant is an investment in quality journalism as it will allow a significant number of our graduate students an opportunity to grow their skills in public affairs reporting in our nation's capital," said Esther Thorson, acting dean of the School. "We thank the White House Correspondents' Association and look forward to working with them."
Selection criteria will include graduate standing, the student's interest in government affairs reporting and financial need, with preference given to those from underrepresented groups. Those groups include students of color, international students, students from rural or less-populated areas or other students who might not otherwise be able to study at the Missouri School of Journalism or participate in the Washington Program.
The Washington Program is for graduate students and top-flight undergraduate seniors. Generally about 20-25 students participate during the fall and spring semesters each year. Roughly one-third are international students who come from nearly every continent under a variety of programs: Fulbright scholars, Humphrey fellows, Muskie fellows or their own graduate program. The program's office is located in the National Press Club building.
During their semester in the nation's capital, students work 30 hours a week for prominent media and government agencies, develop a research project and attend a weekly seminar in which Washington insiders help them better understand the federal establishment.
Helen Thomas, the dean of White House correspondents and widow of former White House reporter Douglas Cornell, BJ '28, has been a regular seminar speaker.
Interested students should contact Wesley G. Pippert, director of the Washington Program, himself a former White House reporter.
The White House Correspondents' Association promotes the interests of reporters and correspondents assigned to cover the White House, helping them meet the demands of a 24/7 news cycle. The organization also mentors future generations of journalists, primarily through scholarships made possible by proceeds from the annual dinner.
Updated: April 27, 2020
Related Stories
Expand All
Collapse All
---