Journalism students gain hands-on experience while providing statehouse coverage to news outlets across the state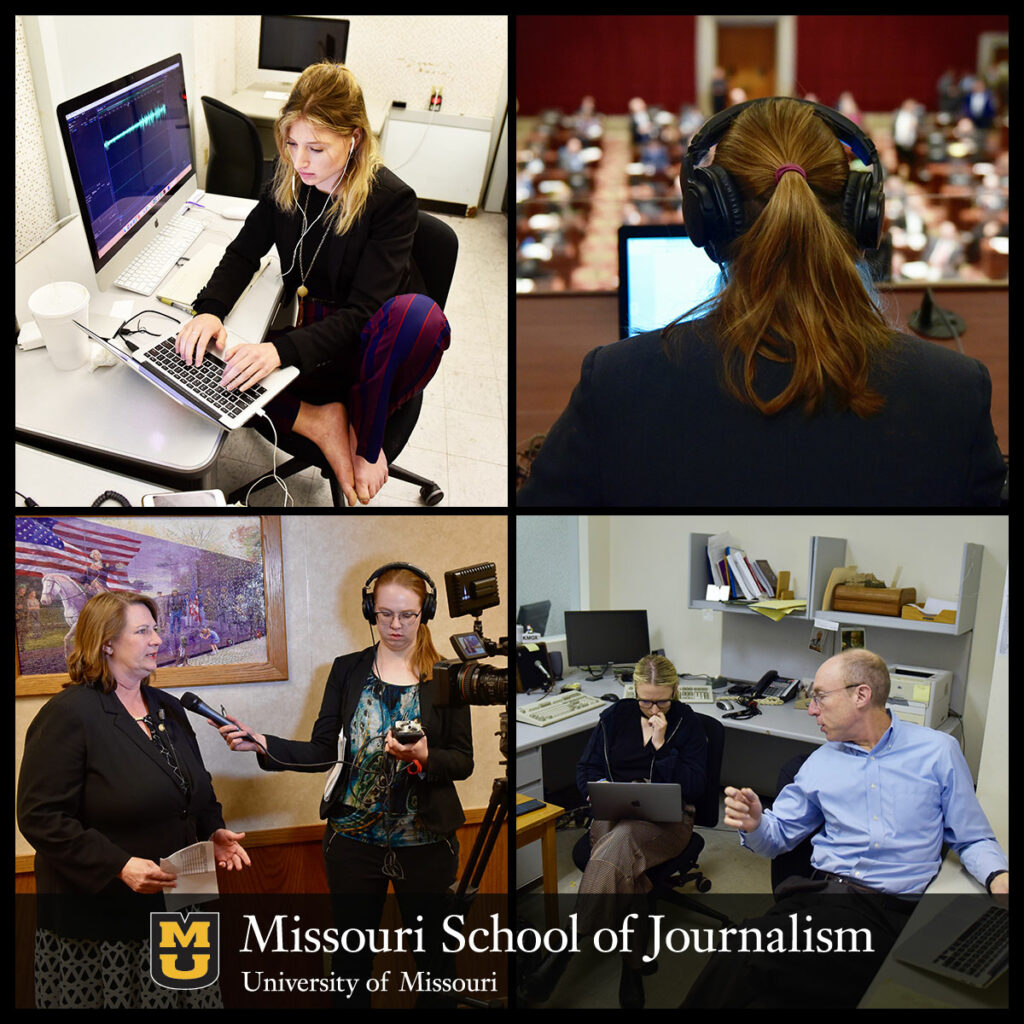 For nearly 50 years, the Missouri State Reporting Program has offered J-School students an opportunity to get real-world reporting experiences while providing a vital service to news organizations that otherwise would be unable to offer coverage of the activities of the Missouri State Legislature in Jefferson City.
Undergraduate reporters provide political news for 226 MPA member publications statewide.
By Jennifer Nelson
Each week, Missouri School of Journalism senior Aviva Okeson-Haberman makes at least one 49-mile round-trip from the School's campus in Columbia to the state's capitol in Jefferson City. On Wednesday, Feb. 6, she made two trips between classes so she could a cover a senate committee hearing, conduct one-on-one interviews with state lawmakers, take notes at a house floor debate and write a radio script as part of the Missouri State Reporting Program.
Her reporting, along with sophomore Anna Lewis' reporting, resulted in a Columbia Missourian story about a prescription drug monitoring program bill. The story was also picked up by the Daily Star Journal, Three Rivers Publishing and the West Plains Quill news outlets in Missouri.
Okeson-Haberman and Lewis are just two of more than 40 School of Journalism students covering various shifts each week to work for the nearly 50-year-old State Reporting Program this semester. Students are not only producing stories for the school's professional newsrooms – NBC affiliate KOMU-TV 8, community newspaper Columbia Missourian and NPR affiliate KBIA-FM – but also filing them for use across the state through partnerships with the Missouri Press Association (MPA) and Missouri Broadcasters Association (MBA). Some students are also providing content directly to news outlets including KMOX Radio in St. Louis and Learfield Communications.
"We're providing a service to a lot of news organizations that otherwise would have no coverage of the state legislature because they don't have people down here," said Mark Horvit, associate professor and director of the program.
Students provide stories for a variety of newsrooms. Although Okeson-Haberman traditionally reports for MBA and KBIA-FM, on Feb. 6 her reporting was also needed for the Missourian.
"We have radio and broadcast reporters who help write the print stories," says Horvit. "We have print reporters who contribute to the broadcast stories. If you're there and you get information, it goes wherever it goes."
The reporting program has partnered with MPA for several years and makes all of its content available to MPA's 226 newspaper members. After seeing the partnership with MPA, MBA expressed an interest this spring semester in developing a similar partnership through the program, which resulted in the development of an audio wire service.
The students participating in the reporting program are working on it for classes, independent study and capstone projects, says Horvit.
Senior Blythe Nebeker, who has an interest in politics, said she couldn't fit the Public Affairs Reporting class into her schedule but she and Horvit were able to come up with a way for her to report on the legislature anyway as an independent study.
Okeson-Haberman and Megan Smaltz's capstone project involves assigning stories, producing and editing audio files and uploading content for the new audio wire service. On Feb. 6, Smaltz worked on an audio package for a parental consent bill for minors seeking abortions.
Smaltz says she's learned quite a few skills as a convergence journalist but the reporting program gave her an opportunity to focus more time on a newer skill: audio.
"This is a really cool opportunity to get more comfortable with audio," she said. "I love podcasts. I listen to news on the radio every time I'm driving and I'm driving almost constantly. So it's been really neat to learn how to use the different recording devices, and how to cut on Adobe Audition, and make a beautiful newsworthy piece out of audio [soundbites]."
Students who choose to take the preparatory Public Affairs Reporting class learn the ins and outs of the state legislature and how to report on it in a way that not only prepares them to work in Missouri but around the country, says Horvit. In class, they learn about how bills become laws, how to track legislation and how to look at campaign finance, for example, he says.
When they get to the Capitol, they continue learning various aspects of reporting including how to build sources and develop trust with lawmakers, says Jacob Cavaiani, a student reporter for KOMU-TV and KMOX Radio.
The program presents new challenges to the young reporters such as staying briefed on everything that's happening even when they're not there, says Cavaiani, who spends two to three days at the Capitol each week, as well as producing for KOMU-TV, too. He says he's found #MoLeg Twitter conversations to be helpful because it includes conversations from interest groups, lobbyists and lawmakers.
Advice for students considering this program? "Don't be intimidated," says senior Maggie Duncan, who provides content to the Missourian and MPA publications. "It's really fun. Some people think that politics is boring, but I think that if you actually give it a chance and came up here and saw laws being made…important things are going on that are affecting people's lives…you would think it was really, really interesting and probably enjoy it a lot."
Updated: June 15, 2021
Related Stories
Expand All
Collapse All
---