Missouri School of Journalism's legislative reporting program helps fill state news gaps for community news producers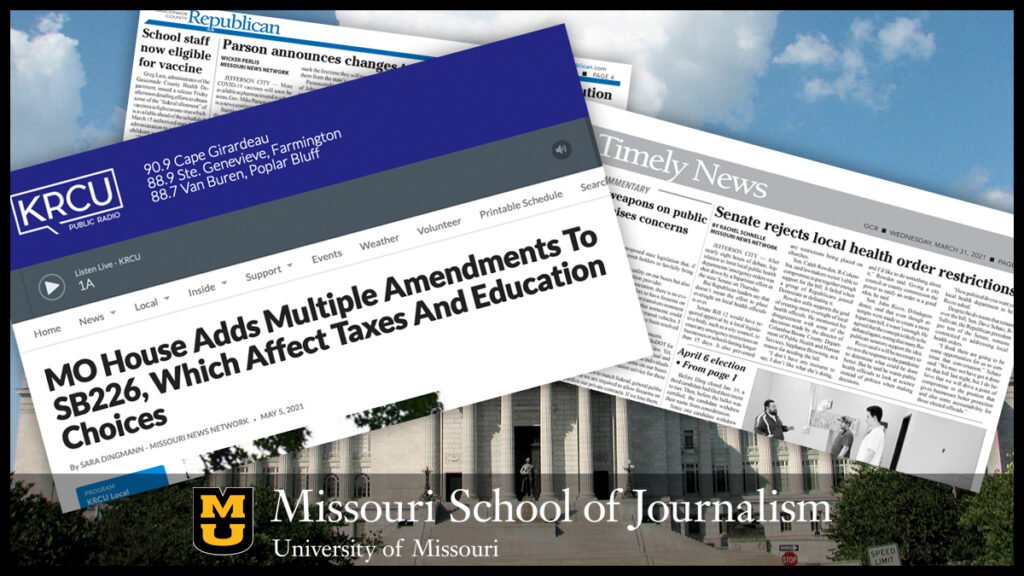 Program provides students hands-on experience on covering legislative news.
By Jennifer Nelson-Pallikkathayil
Columbia, Mo. (May 20, 2021) — Each week as Gasconade County Republican Managing Editor Dave Marner starts production of the small weekly newspaper, he knows he has some solid state legislative news he can count on from the Missouri News Network, a program of the Missouri School of Journalism.
"I've talked to people (in our community) and they enjoy seeing the state stories in there," said Marner, who said the newspaper used to do a page of state news years ago. "They wish there could be more. I have the same feeling. I wish I could run a page of their news every week."
These stories being republished by Marner are produced by students who are part of the Missouri School of Journalism's 50-year-old Missouri State Reporting Program, which covers the Missouri state legislature in Jefferson City.
The stories are published by the School's newsrooms — the Columbia Missourian, KBIA-FM and KOMU-TV — and then also made available through partnerships to members of the Missouri Press Association and Missouri Broadcasters Association. The program also includes a widget that Missouri news producers can embed directly on their website that will rotate state stories through it regularly.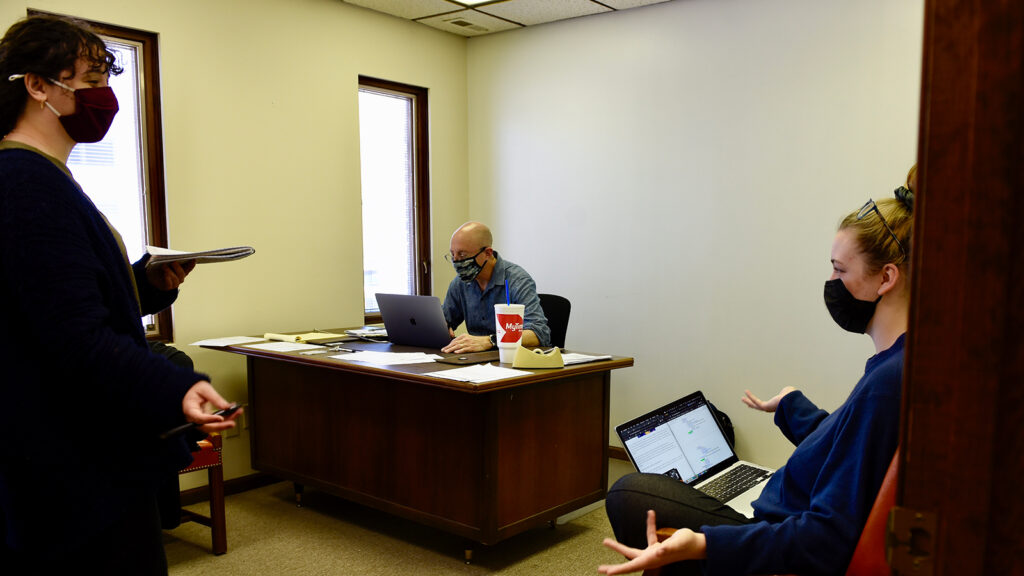 "I think state needs sometimes gets vastly overlooked (by newsrooms), especially the way legislation can directly impact communities," added John Moore of KRCU, who uses stories from the program at least four times a week. "State news is just vitally important for people to really know what's going on in the capital."  Moore said his audience was particularly grateful for information the young journalists shared regarding the governor's directives and COVID-19 related legislation.
"The print stuff is primarily used by the small market," said Mark Horvit, associate professor and director of the program. "Our radio content goes everywhere. We get used in Kansas City. We get used in St. Louis. We get used in Springfield. We get used everywhere."
In addition to helping overworked newsrooms fill coverage gaps, the program also provides students hands-on experience while still in school. The students participating in the reporting program are working on it for classes, independent study and capstone projects. They're learning how bills become laws, how to track legislation, how to look at campaign finance, as well as other journalistic and reporting skills.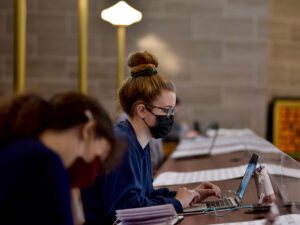 Caitlin King, senior in convergence journalism, who wrote stories for the program as part of her public service journalism class says one of the biggest lessons she learned from being part of the program is the importance of staying as long as needed to get the full story or the top headline.
One night toward the end of the session, King returned to Jefferson City at 5 p.m. after her classes were done to take over for another reporter. She was in the newsroom until 9:30 p.m. finishing up a story about legislation that the House of Representatives had talked about for six hours. She returned early the next morning for another shift.
"This program gave me a better idea of what journalists actually do, because before I got to Mizzou, I had no journalistic experience because I'm from a smaller town and that wasn't an option," she said. "But this feels real world because it is real world. We're not just students, we're actual journalists. So, it's really cool to have that opportunity."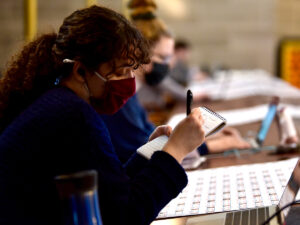 Senior Sara Dingmann worked on stories directly for MBA and got paid for it. She said one of the biggest lessons she's learned was how to pivot quickly. One day she showed up expecting to go to a committee hearing. But then she had to pivot when a team of students and her decided to look around for senators to get quotes from for the big news item. This included asking door attendants if she could pull a senator off the floor for an interview.
"This taught me how to adapt," she said. "I showed up that day. I wasn't mentally preparing myself to do that, so then just being able to figure it out how to do that. I think it makes me really adaptable to the situations."
Updated: June 15, 2021
Related Stories
Expand All
Collapse All
---