Missouri School of Journalism students gain hands-on experience covering Super Bowl, fan experience live from Miami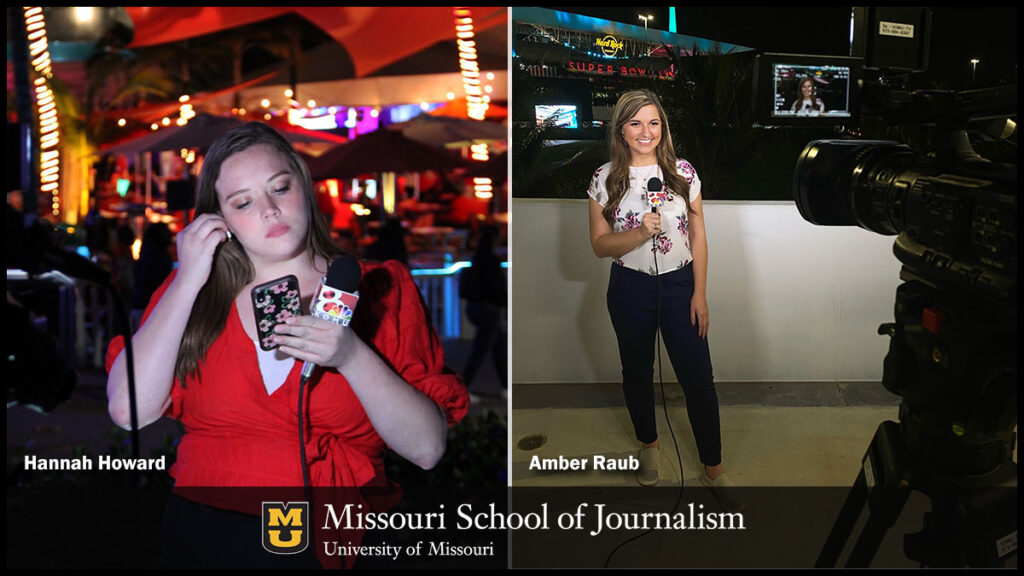 Missouri journalism students Hannah Howard and Amber Raub took the "senior road trip" of a lifetime when they were chosen to travel to Miami to cover Super Bowl LIV for the J-School's real-world media outlets.
By Jennifer Nelson
Columbia, Mo. (Feb. 17, 2020) — Missouri School of Journalism seniors Hannah Howard and Amber Raub gained hands-on experience covering the Super Bowl between the Kansas City Chiefs and the San Francisco 49ers and the fan experience live from Miami for the School's NBC affiliate television station KOMU-TV.
They shot, edited and wrote stories about the fan experience every day for a week leading up to the big game. They also provided content for KOMU's web and social platforms. Not only did they gather all of their own content – they did live shots from Miami for the 5 p.m., 6 p.m., 9 p.m. and 10 p.m. newscasts every night. They interviewed players during the opening night media scrum. In addition to reporting for KOMU-TV, Raub also filed one of her fan experience stories with the School's NPR affiliate KBIA-FM.
"Both Hannah and Amber have worked in our newsroom for virtually their entire time at the University of Missouri, starting at the bottom and working their way up," said Randy Reeves, news director at KOMU-TV. "Students get the chance to prove themselves, and those who do outstanding work and show an outstanding work ethic get picked for this type of assignment. When sending someone that far away, we have to be able to trust them to work hard, solve problems and be pretty much completely self-sufficient hundreds of miles away from home."
Howard, of Winter Haven, Florida, works in the sports department at KOMU-TV where she is a producer and anchor. She has covered the Mizzou Tigers games and SEC Media Days in the past, but she said the Super Bowl was the biggest sporting event she has ever covered. One of the biggest challenges was navigating all the logistics of getting to the various destinations on time and acquiring all the coverage needed by deadline. But she said gaining hands-on experience at KOMU-TV previously helped prepare her.
"We used our basic skills that we always use," she said. "Editing, telling stories, finding those interviews, getting people to talk to you. But being in that environment, obviously, covering sporting events, I would say is what prepared me the most. I know how to navigate my way. Especially on that Monday night and the big media night when there are a million people there covering press conferences. For Mizzou and then SEC Media Days, there was so much media there. So I kind of had a feel for navigating a million media outlets and how to still get the story and still get the sound. But this is definitely the biggest scale I've ever been on."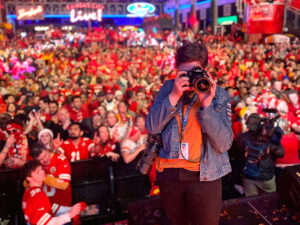 Raub, of Centerview, Missouri, is an anchor and reporter at KOMU-TV where she primarily covers news events. This semester she's also working for the Missouri State Reporting Program team, where she helps cover the Missouri State Legislature. Raub has also helped produce Friday Night Fever newscasts, which is KOMU's local high school football programming.
She said covering an event nonstop for a week was good prep for the working world.
"It was definitely a look into what the real world would probably be like," she said. "It was definitely eye-opening into…what a normal day in the field is going to be like. I have to communicate with my producers. I have to send back video. I need to edit. I need to be able to write for the web, all before the newscast happens."
"This is a confidence-building opportunity," said Reeves. "Now they know they can operate as independent reporters, finding and reporting stories on multiple platforms in a very competitive environment in an unfamiliar part of the world."
Additional Super Bowl-related coverage from J-School students
Back at home, other Missouri School of Journalism reporters and photographers were covering different angles of the Super Bowl for the School's professional newsrooms.
Updated: November 11, 2020
Related Stories
Expand All
Collapse All
---