Blind Journalism Student Brings Mizzou Sports Alive on Radio
By Bill Althaus
Posted July 17, 2015, at Examiner.net
Republished by permission.
Columbia, Mo. (July 20, 2015) — Blake Tarrants has never seen a sporting event on the University of Missouri campus.
Yet the sophomore is an award-winning member of a broadcast team that keeps everyone in Columbia, Missouri, up to date on all Tiger sporting activities and events.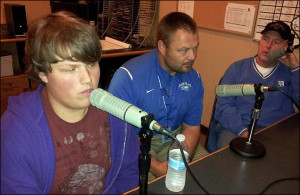 Tarrants, a 2014 graduate of Blue Springs High School, has been blind since encephalitis robbed him of his vision when he was 18 months old. But that hasn't slowed down the back-to-back winner of the Missouri Broadcasters Association scholarship, which goes to an outstanding high school or college student who hopes to work in television or radio as part of his or her career.
"First and foremost, nothing that Blake has won or any of the praise he receives comes because he is visually impaired," said Tony Wrisinger of Sideliner Sports, Vision Sports and KCWJ 1030 AM. "He was nominated for the award when he was a senior at Blue Springs, and he won the scholarship because he earned it."
"And it's great that he won it a second consecutive year because he is doing a great job at Missouri."
KCWJ general manager Ken Ball backs that comment.
"We are so proud of Blake, and he seems to be living up to all our expectations at Missouri," Ball said. "I had the chance to visit with him at the MBA award ceremony, and he is excited about everything that is going on at Missouri with his broadcasting career."
Tarrants was a fixture at all Blue Springs football games and hosted his own postgame show.
All-state linebacker Gunnar Strickland would often be a guest, or he would bring down another member of the Wildcats state championship team to visit with Tarrants in the Wildcat Room, and the senior would wow them with his knowledge of the game.
"You couldn't believe he didn't watch every play," said Strickland, who was Tarrants' roommate for a portion of his freshman year at Missouri. "The guys always enjoyed talking to him about the games because he knew so much about our team and the game (we'd just played). He's pretty amazing."
In typical Tarrants fashion, he said he used his freshman year to make contacts and meet as many people as possible on the Missouri campus.
He was also a frequent host on the student station KCOU's pre and postgame shows for football, basketball and baseball.
He also served as the color man for Missouri soccer.
"That was a lot of fun," Tarrants said. "I had to rely on my play-by-play man for the details, but I really studied the team roster and went into the game knowing a lot about each team. I studied up on the rules and felt good going into the game. I hope to do a lot more color work, but I have to realize that I'm just going to be a sophomore and you have to earn that."
When asked about the challenge of being blind and doing his school homework, and researching all the background material on players and teams he covers, Tarrants just nodded and grinned.
"It's not that difficult," he said. "I put on headphones and use a screen reader, which reads me everything that is on my computer screen. I've been using it for such a long time it just comes naturally to me."
While his emphasis at Missouri is going to be on broadcasting and journalism, he is considering some Spanish classes.
"That would come in handy if I got to work with a team that had Spanish-speaking players – like so many of the baseball teams," said Tarrants, who is always thinking outside the box. "Anything that can help me get my foot in the door."
Tarrants said the transition for high school to college was a bit comparable to the transition he experienced going from the Blue Springs Freshman Center to Blue Springs High School.
"That was a transition and I got accustomed to the high school quickly," Tarrants said. "At Missouri, I did the same thing I did at the high school – familiarized myself with my new surroundings and found some friends I could count on. I never for a moment felt alone or like I was out of place. My freshman year was a great experience, and I can't wait to get back for my sophomore year."
Updated: September 10, 2020
Related Stories
Expand All
Collapse All
---